Wounds in Alpaca During Capture and Chemical Immobilization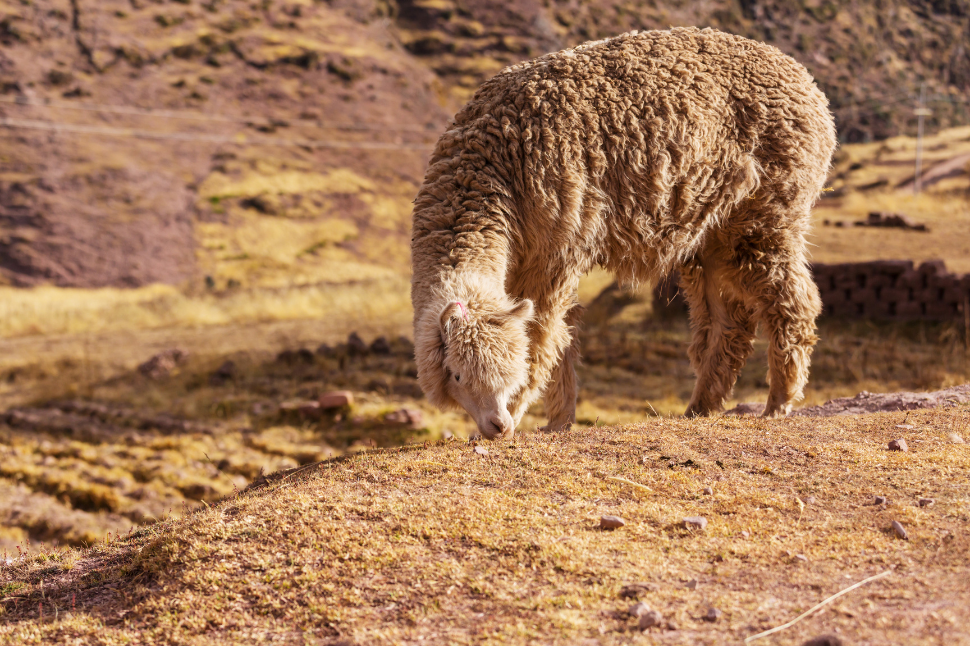 There are numerous risks associated with the capture and/or chemical immobilization of wildlife, regardless of what specific method is used. These risks include complications such as capture myopathy, aspiration, dehydration, hypothermia, hyperthermia, respiratory depression and/or arrest and cardiac arrest. In the case of chemical immobilization (as opposed to traps, snares, etc.), most of these complications can come about as the direct result of chemical immobilization, either due to inadvertent overdose, comorbidities or underlying sensitivities in individual animals.
One complication that may be considered less serious than others, but which must be seriously considered, is that of wounds incurred during capture events. These can occur as a result of an animal attempting to flee prior to immobilization, as it loses physical coordination during take-down after darting or (rarely) from the darts themselves.1
Physical injuries are one of the most common threats to wild animals. In some cases, animals may incur severe injuries that kill them directly. In other cases, their injuries can affect them in ways that are indirectly fatal. Discounting human-related causes, these can come about as the result of a variety of events, such as evading predators, fighting for mates or territory and accidents. Even when an animal doesn't die as a direct or indirect result of an injury, it can be left in a permanently compromised state or with chronic pain.2
Alpaca History and Background
The alpaca (Vicugña pacos or Lama pacos) is the smallest relative of the modern camel. Alpacas are lamoids, a word used to reference several species of South American camelids (Camelidae). This particular group of animals includes llamas, alpacas, vicuñas, and guanacos. While alpacas are at far lower risk for suffering wounds during chemical immobilization events than other wildlife species due to their high level of domestication, the risk still remains. When any animal suffers a wound during capture, ethical considerations dictate that those undertaking research or management protocols make every effort to ensure that the animal is promptly treated so that it can make as complete a recovery as is possible.
Like camels, lamoids are believed to have originated in North America over 40 million years ago, with lamoids migrating to South America and camels migrating west via the Bering Strait, later becoming extinct in North America.3 It is likely that alpacas were developed through selective breeding more than 6,000 years ago by people in the Andes for their wool.
Alpacas have slender bodies, small heads, a short tail and large, tapering ears. They are the most limited in range and the most specialized of the four species of lamoids, being adapted to altitudes from 13,000 to 15,500 feet.4 They are also the smallest of the domesticated New World camelids. The weight of an adult alpaca ranges from 120 to 150 lbs, with a height ranging from 2 to 3 feet.
Lamoids vary by size and purpose, with some (such as llamas) having been bred for use as pack animals and others, such as alpacas, being valued for their fleece.3 There are two types of alpaca: the huacaya and the suri. Huacayas are the more common type, and account for about 90% of all alpacas.4 The two breed types differ primarily in terms of the properties of their fleece. Alpacas are the most widely-used of the New World camelids for fleece production.
The alpaca's fleece is lightweight, strong, high in insulation value and very resistant to moisture. It has been reported that during the height of the Incan civilization, the wearing of robes made of alpaca fleece was reserved for the nobility and royalty.5 Alpaca wool fibers are hollow, which gives them the ability to insulate very well, and to absorb moisture. As a result, alpaca farming has become a worldwide industry.
Alpacas are known as pseudo-ruminants. What this means is that they have a single stomach that is divided into three compartments (instead of four, like other ruminants). In the field, alpacas graze on grasses and plants. On farms, alpacas will eat grass or hay. They consume approximately two pounds per 125 pounds of body weight daily in hay or fresh pasture. Some alpaca farmers feed extra alfalfa to alpacas that are leaner, or those which live in very cold temperatures.5
Treatment of Wounds in Alpacas
Most injuries in alpaca that are connected with capture events are experienced when animals are attempting to flee human pursuers,1 and the most common injuries suffered are lacerations. While remote drug delivery via darts is unlikely to result in a serious injury, darting can on occasion result in minor lacerations. Finally, in some cases an animal may need to be immobilized specifically for the treatment of a serious wound it has suffered due to other causes.
Cleaning the wound should be the first consideration. In the case of small, shallow lacerations, this can be done by flushing with a commercial povidone-iodine or other scrub solution. Flushing with povidone-iodine diluted with saline can be used for deeper wounds; these should not be sutured to allow for drainage.1 The literature recommends high volume and, ideally, high-pressure irrigation unless the tissue is very delicate. The suggested lavage volume is 50 to 100 mL of fluid per centimeter of wound. Low-pressure irrigation is gentle to tissues and does not force bacteria deeper into the wound, but it does not debride as well as high-pressure irrigation, which can be performed with a pressurized fluid bag or a large syringe with an 18-gauge catheter.6 The veterinarian should perform suturing procedures for superficial wounds that have been cleaned. If a veterinarian is not immediately available, non-absorbable sutures may be used.
Any alpaca suffering a laceration prior to or during an anesthetic event should receive systemic antibiotics to reduce the likelihood of infection. Procaine penicillin G combined with benzathine penicillin G is a common formulation is these instances. Long-acting oxytetracycine is also frequently used to treat hoofstock that have suffered lacerations.6
Given the inherent risks associated with chemical immobilization, there is no way to guarantee that injuries in alpaca will not occur. That said, the drug formulations currently available for immobilizing alpacas and other wildlife have been refined to a degree that eliminates much of the risk that existed years ago. With the right drug formulations, proper planning and safety precautions in place, experienced personnel can have the expectation of effective and incident-free chemical immobilization of alpaca in the majority of cases.
1Kreeger T., Arnemo, J., Raath, J. Handbook of Wildlife Chemical Immobilization, International Edition, Wildlife Pharmaceuticals, Inc., Fort Collins, CO. (2002).
2vetfolio.com: Remote Injection Systems. https://www.vetfolio.com/learn/article/remote-inj...
6veteriankey.com.7Friend, M., Thomas, N. J. Field Manual of Wildlife Diseases. In: Field Manual of Wildlife Diseases, United States Geological Survey, 361-368.
About NexGen Pharmaceuticals
NexGen Pharmaceuticals is an industry-leading veterinary compounding pharmacy, offering sterile and non-sterile compounding services nationwide. Unlike other veterinary compounding pharmacies, NexGen focuses on drugs that are difficult to find or are no longer available due to manufacturer discontinuance or have yet to be offered commercially for veterinary applications, but which still serve a critical need for our customers. We also specialize in wildlife pharmaceuticals, including sedatives and their antagonists, offering many unique options to serve a wide array of zoo animal and wildlife immobilization and anesthesia requirements.
Our pharmacists are also encouraged to develop strong working relationships with our veterinarians in order to better care for veterinary patients. Such relationships foster an ever-increasing knowledge base upon which pharmacists and veterinarians can draw, making both significantly more effective in their professional roles.
Disclaimer
The information contained in this blog post is general in nature and is intended for use as an informational aid. It does not cover all possible uses, actions, precautions, side effects, or interactions of the medications shown, nor is the information intended as medical advice or diagnosis for individual health problems or for making an evaluation as to the risks and benefits of using a particular medication. You should consult your veterinarian about diagnosis and treatment of any health problems. Information and statements have not been evaluated by the Food and Drug Administration ("FDA"), nor has the FDA approved the medications to diagnose, cure or prevent disease. Medications compounded by NexGen Pharmaceuticals are prepared at the direction of a veterinarian. NexGen Pharmaceuticals compounded veterinary preparations are not intended for use in food and food-producing animals.
NexGen Pharmaceuticals, LLC does not recommend, endorse or make any representation about the efficacy, appropriateness or suitability of any specific dosing, products, procedures, treatments, services, opinions, veterinary care providers or other information that may be contained in this blog post. NEXGEN PHARMACEUTICALS, LLC IS NOT RESPONSIBLE NOR LIABLE FOR ANY ADVICE, COURSE OF TREATMENT, DIAGNOSIS OR ANY OTHER INFORMATION, SERVICES OR PRODUCTS THAT YOU OBTAIN THROUGH THIS BLOG POST.