Immobilization Anesthesia For Wildlife Handlers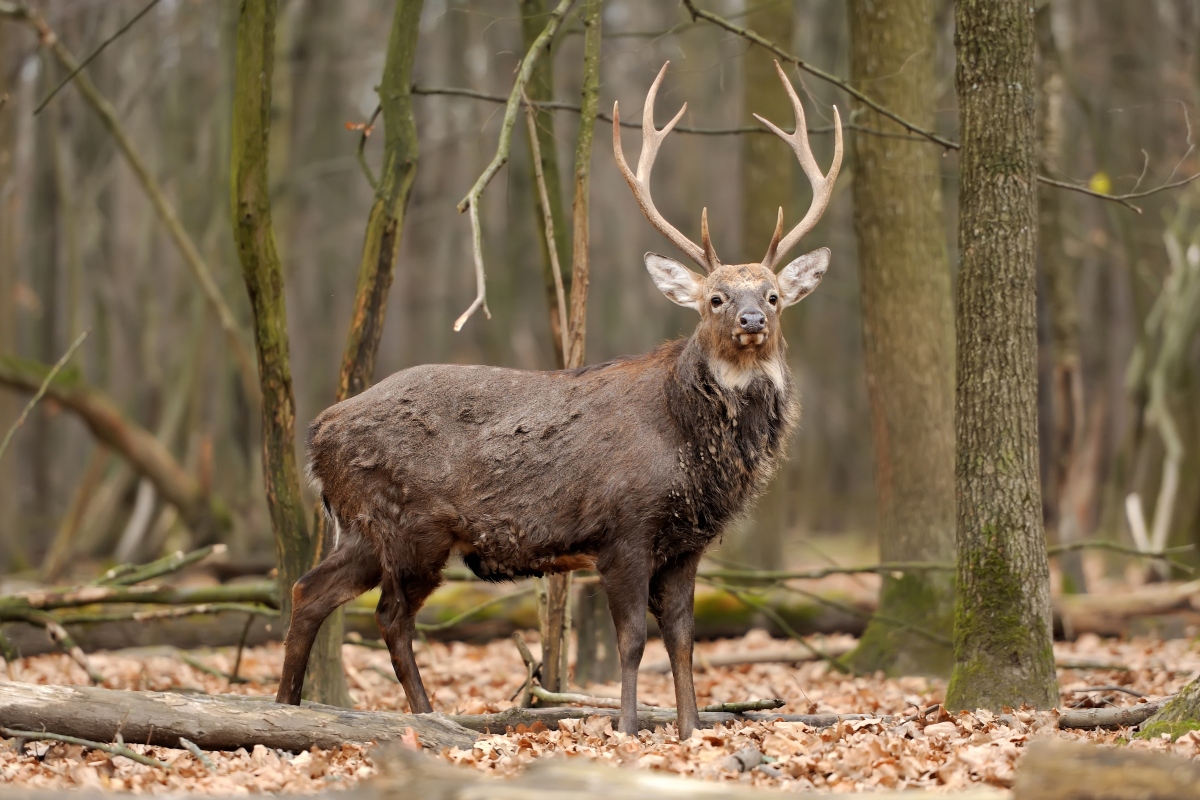 The nature of wild animals dictates that any manipulation that requires handling will necessitate chemical immobilization. Anaesthetizing wild animals is typically done to mark an animal, to apply a radio transmitter, administer individual animal treatment, or for the purpose of research. 1
Anaesthesia of wildlife is challenging and requires that veterinarians adjust the general principles of anaesthesia to the unique anatomy and physiology of wildlife species and challenging field conditions. Specific anatomical and physiological details are not always available, although anaesthetic protocols have been adjusted from doses in domestic species and rarely are detailed pharmacokinetic studies available. 2
Unlike working with small animal patients, veterinarians planning to anaesthetize wildlife are seldom afforded the opportunity to physically examine patients or acquire biological samples to assess their physical status prior to anaesthesia, and that sometimes translates to choosing anaesthetic cocktails with a wider safety margin while sacrificing other parameters such as recovery time. Additionally, capture and chemical immobilization of wildlife can pose some significant human safety considerations. "Lastly, morbidity and mortality of patients undergoing field anaesthetic procedures is not uncommon. For example, high ambient temperature can lead to hyperthermia." 1
Preparation
To the extent that it is feasible, veterinarians working in wildlife capture teams should become familiar with the anatomy, physiology and population dynamics of the species at hand. In some cases, humane and effective methods of physical capture of wildlife species have been described often negating, or at least facilitating, chemical immobilization. 3

Those responsible for the event should meet in advance to plan and organize the logistical, equipment and personnel needs for the procedures. It is important to assign each person a specific duty, so that at the time of the anaesthetic procedure everyone's responsibilities are clear. When working with dangerous animals, a specific person trained and equipped with firearms may be needed. In addition, a visit to the site of capture prior to the procedure is paramount to determine environmental factors, such as landscape characteristics that may pose a threat to the personnel or the animals. Field sites can be rocky, muddy, traversed by creeks that pose a drowning hazard, or cliffs. It may be possible to estimate the time of the day that the animal in question may have had the least amount of food, or remove available food resources. 2
Finally, the veterinarian (and/or team) should discuss the realistic potential for morbidity and mortality. Such discussions may translate to utilizing more expensive anaesthetic protocols, or designing back-up plans that require more personnel and equipment.
When possible, anaesthetic procedures should be planned at a time of year and time of day when they pose the least hazard to the species. "For example, if working with bears, it is important to take into consideration the metabolic changes associated with hibernation and avoid anaesthesia during this period. Ungulates are best anaesthetized in the early spring or fall and during the coolest period of the day to avoid hyperthermia." 2
On the other hand, in temperate zones, hypothermia during winter months is also a major concern. In addition, vehicles required for the anaesthetic procedure (e.g. helicopters, trucks) may not be efficient during rainy, ice or snowy conditions. 3 Landscape features can pose significant dangers. Steep, rocky terrain, or nearby water sources may require additional personnel to corral or herd animals away from danger and working in such conditions requires protocols that produce the shortest induction time. The social hierarchy of some animals may be important if individuals are going to be separated from a group, or if, for example, a herd may become "protective" or aggressive towards an animal showing drug effects, or towards the capture team. Predation can occur, particularly during induction and recovery, before or after the anaesthetic team can protect the animals.
Physical restraint, whenever possible, will facilitate administration of anaesthesia and reduce stress for the animal. This is particularly useful for small mesopredators (e.g. raccoons, coyotes, otters) in which leghold traps, cage traps or squeeze cages allow the anaesthetist to hand inject, or use a pole syringe. 3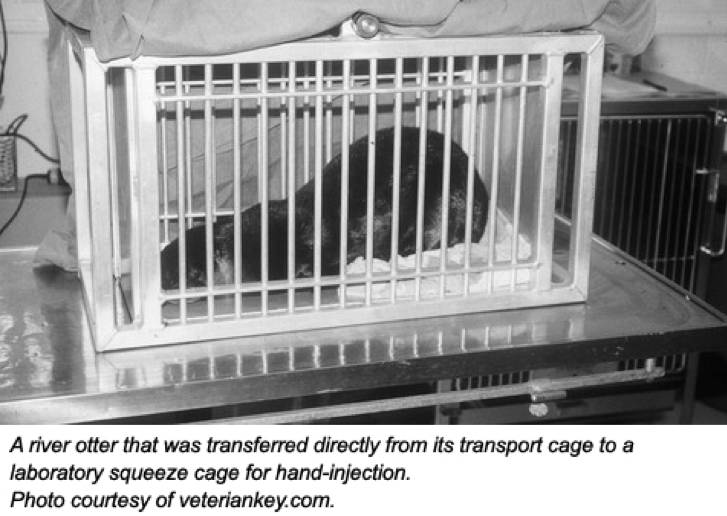 Equipment, Induction and Dosages
To have any effect on the animal, the immobilizing drug must be absorbed from the vascular tissue of the injection site and conveyed in sufficient volume through the circulatory system to the brain. The time (in minutes) from injection to a satisfactory level of immobilization is known as the induction time. The drug response in individual animals is influenced by a variety of factors.
Administration of an immobilizing drug by remote delivery is by intramuscular injection. The aim is to hit the animal in a specifically-selected site, causing injection into vasular tissue and thereby facilitating rapid absorption of the drug.
The neck is a suitable injection site for large animals with muscular necks. Care should be taken to avoid hitting the jugular vein, the upper end of the neck, and the head, with the best injection site being the trapezius muscle mass at the upper base of the neck. The shoulder is also a suitable injection site for larger species.
Unfortunately, the body weight of the animal often needs to be estimated. This can prove difficult in larger species that cannot be examined up close prior to darting. However, there are several resources which publish the range of body weight expected for common species. 1,2 The gender, life stage and reproductive status are also important details. For example, xylazine is a common ingredient in anaesthetic cocktails utilized to immobilize free-ranging bison, yet it may cause abortion. 2
All of this information should be carefully recorded, and the recording media should be designed ahead of time to collect important data that can benefit future anaesthetic administrations. This should include the animal's weight (or estimated weight), gender, life stage, reproductive status as stated above, as well as any anticipated or potential irregularities.
Drug Combinations
Although many drugs may be used alone for the immobilization of wildlife, combinations of two or more synergistic drugs are often safer as well as being more effective. It is for this reason that such combinations have become more widely used in this regard. The primary immobilizing drug in formulations such as these is often an opioid or a cyclohexamine, with the addition of a neuroleptic or an alpha 2-adranergic agonist. The use of the latter potentiates the primary drug, producing a shorter and calmer induction, and counteracts the undesirable side effects commonly associated with opioids and cyclohexamines.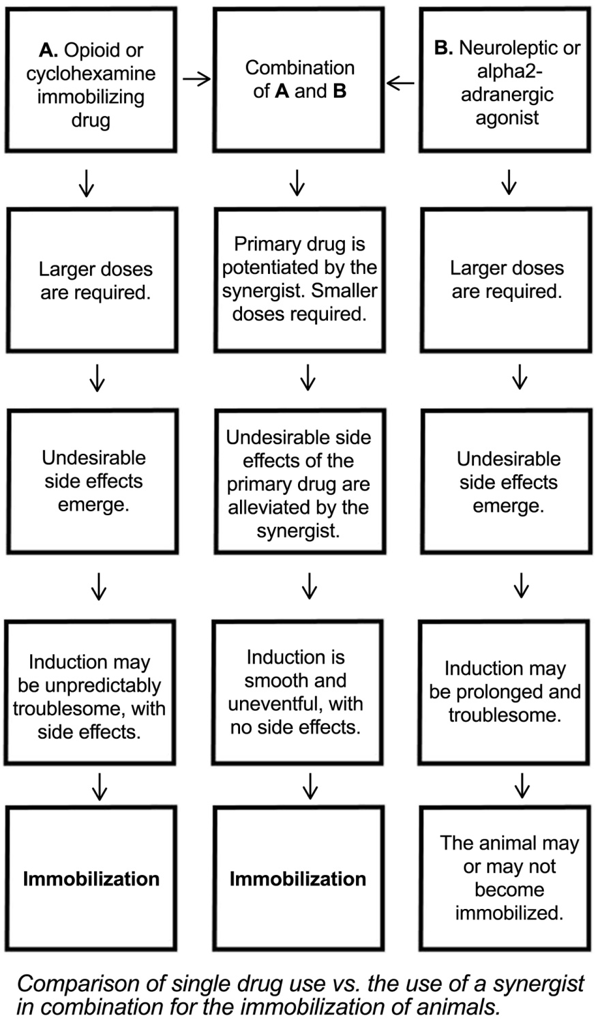 At present, the growing need for specialty formulations of this type is being filled by custom compounding pharmacies. Common combinations of this type often include drugs such as etorphine HCl and xylazine HCL, while others utilize drugs like ketamine HCL and medetomidine HCL in combination. Others may include such compounds as butorphanol, a morphinan-type synthetic agonist–antagonist opioid analgesic, while others employ drugs like midazolam for more effective sedation during surgeries. Frequently, custom compounding pharmacies will offer two or more concentrations of these custom formulations to allow for their wider use across species.
Class and Drug
Induction (min.)
Duration (min)
Antagonist
Opioids

Etorphine

Fentanyl

Carfentanil

2.0 - 12.0

3.0 - 5.0

2.0 - 10.0

360 - 480

60 - 120

360 - 600

Diprenorphine

Diprenorphine

Naltrexone

Cyclohexamines

Ketamine

Telazol

2.0 - 5.0

1.5 - 4.0

45 - 120

180 - 300

None

None

Alpha2-adranergic agonists

Xylazine

Detomidine

Medetomidine

10.0 - 15.0

2.0 - 10.0

2.0 - 8.0

120 - 240

120 - 360

120 - 240

Yohimbine

Atipamezole

Atipamezole
In the Field
The team should be composed of someone who is very familiar with the behavior of the species to be immobilized. Most animal species have some inherent defense system, particularly when chased, trapped or cornered. 2 Hill et al. (1998) reported on the increase of animal-related injuries to veterinarians working with wildlife. If an animal is cornered, formulating an escape route for the capture team and the animal should be discussed in advance. Although the danger associated with some species like carnivores is obvious, ungulates can be just as lethal, especially aggressive males during rut. Even when anaesthetized, premature arousal or stimulation can cause an animal to bite or kick. Large ungulates should be hobbled and other forms of physical restraint, such as a dedicated person holding the head of a carnivore, are wise. 2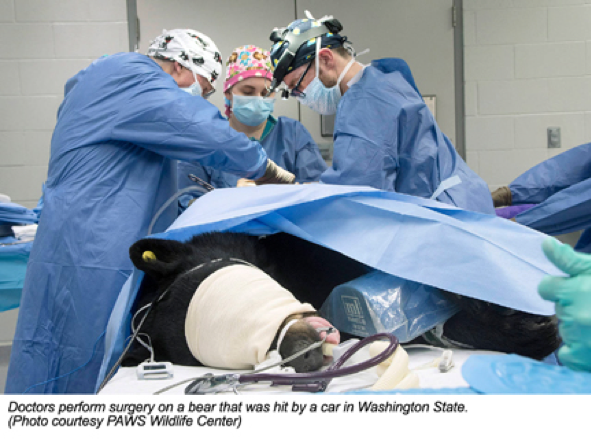 Darts and dart delivery equipment should be treated like firearms. Anyone handling the equipment should be adequately trained. Shooting should not take place in areas where a person may inadvertently become the target. Drug exposure or other types of injury (e.g. inadvertent needle sticks, explosions) usually occur when darts are being loaded. Ideally, a dart should be loaded in a quiet place where the loader is not distracted by the activities of the capture, but where at least another person can watch the loader in the event of injury. 3
Finally, most anaesthetics pose some safety hazard for humans, so any exposure should be taken seriously. Inadvertent intoxication can occur through small skin cuts, needle sticks or ocular and nasal exposure. Anyone working with anaesthetics, particularly in the field, should have a written emergency protocol clearly to identify and determine the steps that should be taken in the event of an exposure. This protocol should be discussed with all participating personnel. 3

1 Fowler, E., Cubas, Z. Biology, Medicine, and Surgery of South American Wild Animals. Iowa State University Press, 2001.
2Miller, R., Fowler, M. Fowler's Zoo and Wild Animal Medicine, Volume 8, 1st Edition, Saunders, 2014.
3Schemnitz, Sanford & Batcheller, Gordon & Lovallo, Matthew & White, H. & Fall, Michael W.. (2009). Capturing and Handling Wild Animals. The Wildlife Management Techniques Manual. 232-269.

About NexGen Pharmaceuticals
NexGen Pharmaceuticals is an industry-leading veterinary compounding pharmacy, offering sterile and non-sterile compounding services nationwide. Unlike other veterinary compounding pharmacies, NexGen focuses on drugs that are difficult to find or are no longer available due to manufacturer discontinuance or have yet to be offered commercially for veterinary applications, but which still serve a critical need for our customers. We also specialize in wildlife pharmaceuticals, including sedatives and their antagonists, offering many unique options to serve a wide array of zoo animal and wildlife immobilization and anesthesia requirements.
Our pharmacists are also encouraged to develop strong working relationships with our veterinarians in order to better care for veterinary patients. Such relationships foster an ever-increasing knowledge base upon which pharmacists and veterinarians can draw, making both significantly more effective in their professional roles.
Disclaimer
The information contained in this blog post is general in nature and is intended for use as an informational aid. It does not cover all possible uses, actions, precautions, side effects, or interactions of the medications shown, nor is the information intended as medical advice or diagnosis for individual health problems or for making an evaluation as to the risks and benefits of using a particular medication. You should consult your veterinarian about diagnosis and treatment of any health problems. Information and statements have not been evaluated by the Food and Drug Administration ("FDA"), nor has the FDA approved the medications to diagnose, cure or prevent disease. Medications compounded by NexGen Pharmaceuticals are prepared at the direction of a veterinarian. NexGen Pharmaceuticals compounded veterinary preparations are not intended for use in food and food-producing animals.
NexGen Pharmaceuticals, LLC does not recommend, endorse or make any representation about the efficacy, appropriateness or suitability of any specific dosing, products, procedures, treatments, services, opinions, veterinary care providers or other information that may be contained in this blog post. NEXGEN PHARMACEUTICALS, LLC IS NOT RESPONSIBLE NOR LIABLE FOR ANY ADVICE, COURSE OF TREATMENT, DIAGNOSIS OR ANY OTHER INFORMATION, SERVICES OR PRODUCTS THAT YOU OBTAIN THROUGH THIS BLOG POST.