Aspiration in Dromedary Camels During Capture and Chemical Immobilization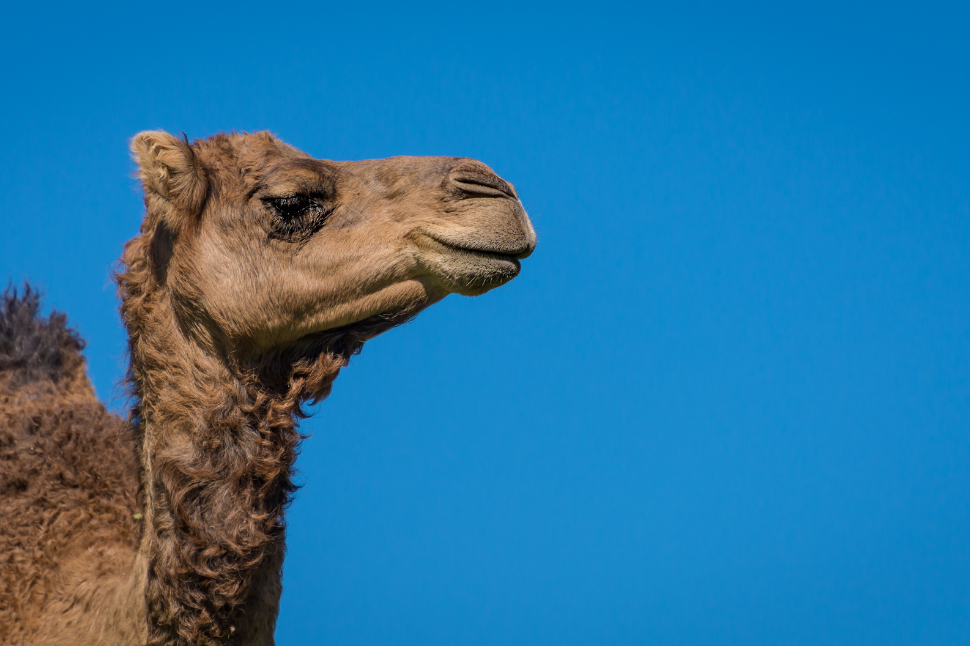 The dromedary camel (Camelus dromedaries) occupies the arid regions of the Middle East and northern Africa through northern India. There are also feral populations in central Australia, where they were introduced in the middle of the 19thCentury. These animals have been so widely domesticated that wild dromedary camels are generally understood as being extinct.
Dromedary camels have a long, curved neck, a deep chest and a single hump, as opposed to Bactrian camels (C. bactrianus), which have two humps. The hump is composed of fat and fibrous tissue, which allows the camel to store energy when food is scarce.1 Thus, the size of the hump will vary based on the camel's nutritional status; in other words, the hump becomes smaller during times of scarcity. The upper lips of dromedary camels are split to allow for their consumption of tough, thorny plants.
Dromedary camels have legendary adaptations that uniquely suit them to life in the desert. A double row of long eyelashes protects their eyes from blowing sand and dust. At the onset of sandstorms, dromedary camels have the ability to close their nostrils to prevent sand from entering the respiratory tract.2 They are also able to conserve water in a variety of ways. These camels are able to fluctuate their body temperature throughout the day, which allows them to conserve water by not sweating as the ambient temperature increases.
Female dromedary camels reach sexual maturity around three years of age, and are able to mate at age four or five. Males reach full sexual maturity until age six.2,3 Dromedary camels are seasonal breeders, with breeding occurring the winter and into the rainy season. The gestation period lasts for approximately 15 months, followed by the birth of a single calf or, occasionally, twins.
As mentioned above, dromedary camels were introduced into Australia in the 1840's to assist in the exploration of inland Australia. Today, there are over one million feral camels in the rangeland ecosystems of Australia. Unfortunately, these animals are causing significant damage to the natural environment. As a control method, radio-collared camels are now being used to enhance population control programs, which involves immobilizing individual camels.4 This procedure carries the risk of giving rise to a variety of complications in the immobilized animals.
What is Aspiration?
Aspiration occurs when a foreign substance (e.g., food, liquid, or other materials) enters the airway or lungs. It can cause serious health problems, such as pneumonia. Aspiration can occur when a human or animal has difficulty swallowing normally (referred to as dysphagia), but in some instances it can be brought on during or after anesthetic events.
In cases of dysphagia, a small amount of food or fluids may be inadvertently aspirated. In the case of anesthetic aspiration, an animal vomits food from their stomach during a surgical procedure which is then aspirated into the lungs. This potentially represents a much larger volume of material being aspirated, which can lead to serious complications. While postoperative nausea and vomiting (PONV) is common in humans and other mammals,5 intraoperative aspiration (aspiration during a surgical procedure), is very dangerous and can lead to the death of the patient.
Chemical Immobilization in Dromedary Camels
Decades ago, the primary method used for the capture of many large wild animals was to chase them to the point of near-exhaustion, which was labor-intensive, impractical and inhumane.7 From the 1950s on however, pioneering work on the chemical immobilization of wildlife resulted in techniques that have improved greatly through the development of increasingly efficacious drugs and equipment.
Field immobilization with chemical agents is a method of rendering animals manageable while using minimal restraint. Research or wildlife management objectives usually include such things as the measurement or weighing of the animal, collection of blood or tissue for research or diagnostics, marking an individual or fitting a radio transmitter for studying migration patterns, range requirements and behavior patterns or the translocation of animals for various reasons.7,8
Given the extent of their domestication, dromedary camels are often agreeable when it comes to handling despite their size, thus physical restraint and local anesthetic techniques are frequently used to provide immobility and analgesia. Anesthesia techniques for dromedary camels are similar to those for ruminants and horses.9,10 Regurgitation of compartment one (C1) of the stomach contents, similar to ruminants, and postoperative nasal congestion and associated respiratory distress postextubation are potential hazards that are commonly recognized in camel anesthesia.10
Teams that are qualified to handle wild mammals should evidence the appropriate expertise in wildlife anesthesia and should include an attending veterinarian when appropriate. A successful chemical restraint event is not complete until the animal is fully recovered and (in the case of field research) back in its environment. Appropriate pharmacological principles with an emphasis on drug reversibility minimize the chances that an animal will be at a competitive disadvantage or disoriented following its release. Further, residual sedation and renarcotization should be avoided in the field unless absolutely necessary.7,8
Managing Aspiration in Dromedary Camels
Aspirated substances can significantly damage the lung tissues, resulting in acid-associated pneumonitis or other bacterial infection. Until formulated drugs (e.g., combinations of α2-agonists such as medetomidine, detomidine, xylazine and their reversal agents) came into widespread use, opioids were the mainstay of wildlife anesthesia.7 As with other mammals, problems encountered with certain opioids in dromedary camels are known to include vomiting or passive regurgitation that can lead to fatal aspiration pneumonia.
Fasting prior to an anesthetic event (periprocedural fasting) in humans and animals has historically been recommended by clinicians because of the risk of aspiration. Unfortunately, this is very often impractical or impossible under field conditions.
In preparing dromedary camels for anesthesia, decreasing the size and pressure in C1 before anesthesia is essential, as well as withholding food for 12 to 18 hours and withholding water for up to 12 hours. Withholding food or water in neonates is not recommended, as this increases the risk of dehydration and hypoglycemia. Additionally, the literature states that camels younger than one month of age rarely regurgitate during anesthesia. It is recommended that camels are orotracheally intubated for procedures lasting more than 20 minutes.10
In order to decrease the likelihood of anesthetic aspiration, histamine (H2) antagonists such as cimetidine, famotidine, nizatidine, and ranitidine and proton pump inhibitors (PPIs) such as dexlansoprazole, esomeprazole, lansoprazole, omeprazole, pantoprazole, and rabeprazole have been used to increase the pH and reduce the volume of gastric contents.5Prokinetics (e.g., domperidone, metoclopramide, erythromycin and renzapride) promote gastric emptying and are also believed to reduce the risk of aspiration.6
In the event that a camel aspirates during a procedure, the first step in managing the situation is the immediate recognition of gastric content in the oropharynx or the airways.5,6 The camel should be positioned with the head down and rotated laterally if possible. Orotracheal and endotracheal suctioning is indicated, either before or after orotracheal intubation, depending on whether regurgitation continues and if the airway is visible. It is recommended that the airway be secured as rapidly as possible to prevent further contamination and to facilitate airway clearance.6 Flexible bronchoscopy may be used in addition to orotracheal and endotracheal suctioning, but if particulate matter is present in the airway, rigid bronchoscopy may be necessary.6,9
5Shaikh, Safiya Imtiaz et al. Postoperative nausea and vomiting: A simple yet complex problem. Anesthesia, essays and researches vol. 10, 3 (2016).
6Nason, K. Acute Intraoperative Pulmonary Aspiration. Thoracic surgery clinics vol. 25,3 (2015): 301-7.
7Lance, W. Exotic Hoof Stock Anesthesia and Analgesia: Best Practices. In: Proceedings, NAVC Conference 2008, pp. 1914-15.
8Kluger M.T., et. al. Crisis management during anaesthesia: regurgitation, vomiting, and aspiration. Quality & safety in health care. 2005;14(3): e4.
9White RJ, Bali S, Bark H. Xylazine and ketamine anaesthesia in the dromedary camel under field conditions. Vet Rec. 1987 Jan 31;120(5):110-3.
About NexGen Pharmaceuticals
NexGen Pharmaceuticals is an industry-leading veterinary compounding pharmacy, offering sterile and non-sterile compounding services nationwide. Unlike other veterinary compounding pharmacies, NexGen focuses on drugs that are difficult to find or are no longer available due to manufacturer discontinuance or have yet to be offered commercially for veterinary applications, but which still serve a critical need for our customers. We also specialize in wildlife pharmaceuticals, including sedatives and their antagonists, offering many unique options to serve a wide array of zoo animal and wildlife immobilization and anesthesia requirements.
Our pharmacists are also encouraged to develop strong working relationships with our veterinarians in order to better care for veterinary patients. Such relationships foster an ever-increasing knowledge base upon which pharmacists and veterinarians can draw, making both significantly more effective in their professional roles.
Disclaimer
The information contained in this blog post is general in nature and is intended for use as an informational aid. It does not cover all possible uses, actions, precautions, side effects, or interactions of the medications shown, nor is the information intended as medical advice or diagnosis for individual health problems or for making an evaluation as to the risks and benefits of using a particular medication. You should consult your veterinarian about diagnosis and treatment of any health problems. Information and statements have not been evaluated by the Food and Drug Administration ("FDA"), nor has the FDA approved the medications to diagnose, cure or prevent disease. Medications compounded by NexGen Pharmaceuticals are prepared at the direction of a veterinarian. NexGen Pharmaceuticals compounded veterinary preparations are not intended for use in food and food-producing animals.
NexGen Pharmaceuticals, LLC does not recommend, endorse or make any representation about the efficacy, appropriateness or suitability of any specific dosing, products, procedures, treatments, services, opinions, veterinary care providers or other information that may be contained in this blog post. NEXGEN PHARMACEUTICALS, LLC IS NOT RESPONSIBLE NOR LIABLE FOR ANY ADVICE, COURSE OF TREATMENT, DIAGNOSIS OR ANY OTHER INFORMATION, SERVICES OR PRODUCTS THAT YOU OBTAIN THROUGH THIS BLOG POST.