Sarracenia / Pitcher Plant 0.5 mg/ml Dosages & Usages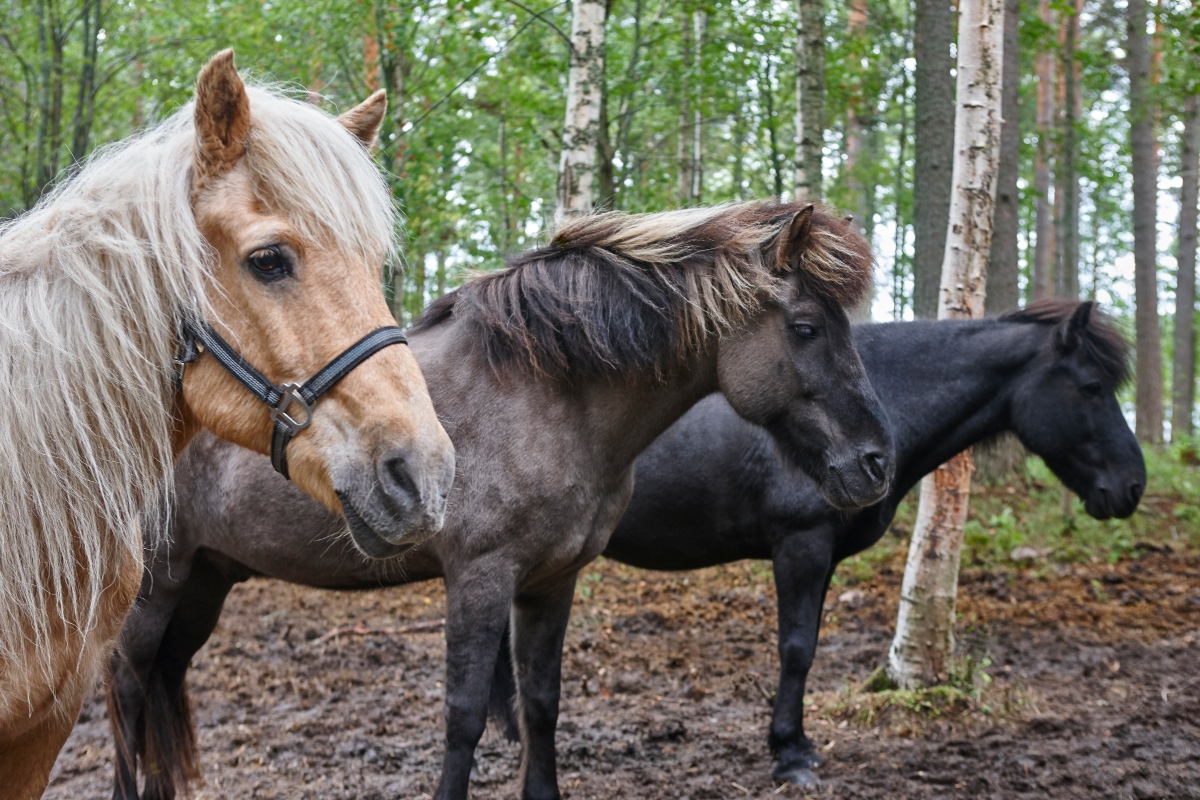 Muscle strains resulting in soreness can occur in a muscle or any group of muscles in the horse. Apart from serious injury, arthritis or other degenerative joint diseases (DJDs) however, back soreness is one of the most prevalent chronic issues in horses. "[D]amage to the muscles is probably the most common cause of back soreness in horses. This most commonly involves the longissimus dorsi muscle, which acts to extend and laterally flex the vertebral column."1
Accidents or strenuous exercise can strain leg, adductor or groin muscles, while such things as a badly fitted saddle can affect back muscles.2 In these cases, symptoms can run from mild to severe, with a horse trembling in pain or exhibiting lameness. Muscle strains are often due to an injury or an overworked muscle that is swollen or torn, giving rise to neurologic pain.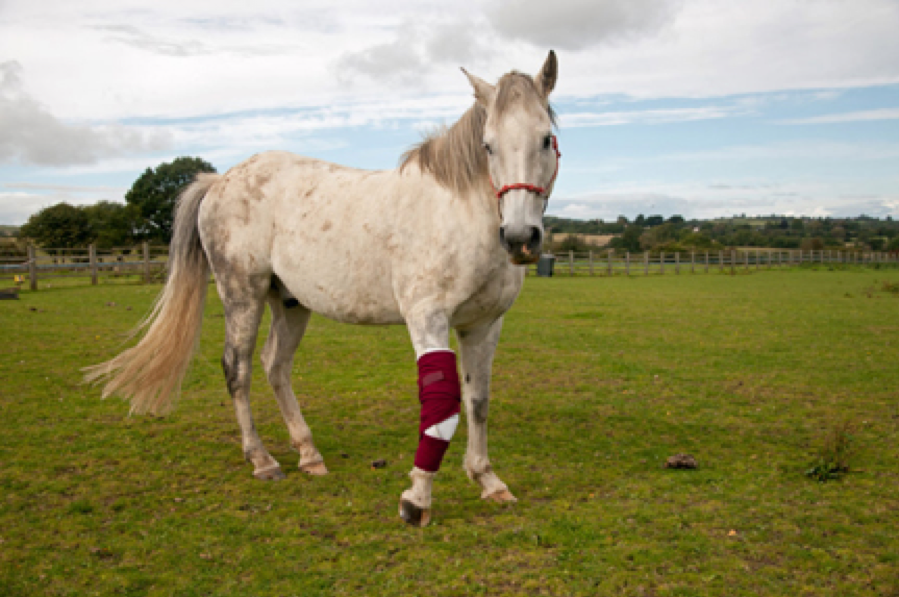 Symptoms of Muscle Strain and Soreness
Apart from the aforementioned trembling and lameness (which are often signs of more serious injury), performance issues and/or a reluctance to be ridden or exercised are clear indications that a horse is experiencing marked discomfort. Being observant of the horse's temperament and behavior will help the owner or manager notice any subtle changes that arise, so that action can be taken before the condition worsens.
Symptoms of muscle strain and soreness can include:
Poor or altered performance
Discomfort or Pain upon palpation
Swelling
Lameness
Tender areas Lump or gap in muscle
Muscle tightness
Muscle spasm
Loss of condition
Weakness
Trembling
Attitude changes
Lacerations or bruises
Dragging hind feet
Forceful tail movements
Stiff tail
Grinding teeth
Refusal to jump
Changes in gait
Abnormal back and pelvis movements
Shorter strides
Refusal to be mounted
Sinking when mounted or saddled
Reluctance to canter or trot
Elevated breathing rate
Sweating
Reluctance to move2

A variety of problems can contribute to muscle pain in horses, which is broken down into two types:
Primary muscle soreness will usually present itself quite dramatically. Symptoms can include muscle stiffness, sweating, reluctance to move, violent tremors, tucked-up abdomen, or even collapse. Primary muscle problems are often due to an improper function of muscle metabolism, sometimes linked to a genetic component. Primary muscle soreness can be due to a muscle condition such as Polysaccharide Storage Myopathy (PSSM) Type 1 or 2, or Equine Hyperkalemic Periodic Paralysis (HYPP).
Secondary muscle soreness can stem from improperly-fitting equipment, foot soreness or arthritis. Symptoms can be seen in behavioral changes such as a reluctance to go forward, bucking, tail swishing, and changes in overall demeanor. While secondary muscle pain is more common than primary, it can be frustrating to diagnose its exact cause. The multitude of contributing factors include, but are not limited to: poor fitness, dietary deficiencies, improper saddle fit, shoeing problems, or altered movement due to joint pain.3
Causes of muscle strain and soreness (usually falling under the category of secondary muscle soreness) can include:
Injury or damage
Accidents causing direct impact to the muscle
Overuse of muscle or muscle group
Repetitive or strenuous exercise or movement
Ridden exercise
Tack or saddle that does not fit properly
Poor condition
Fatigue
Poorly executed jumping
Chronic leg lameness
Damage caused by an uneven rider
Injection site myopathy
Sports activities
Kissing spines, or the rubbing together of vertebrae
Illness or disease causing secondary muscle damage2

Diagnosis and Treatment
Diagnosis of muscle strain in horses can be complicated, due to the fact that many of its symptoms are similar to other conditions. Also, some muscles, such as the groin or adductor muscles, are difficult to isolate in a diagnosis.2 It will be necessary to provide the veterinarian with a complete medical history, including any observed injuries or symptoms.
A physical examination should include palpation of muscle groups to determine any areas of pain, assessing muscle symmetry, and evaluating the range of motion of the legs and neck. the veterinarian may wish to observe the horse walking, trotting, jumping, or performing certain movements. "A lameness exam may also be used to rule out other diseases. Blood and serum testing can check for muscle enzyme levels, and help to rule out other conditions. Various imaging techniques are used to locate injuries and muscle issues, as well as to see the extent of the damage in order to create an appropriate treatment plan. These can include nuclear scintigraphy, or a bone scan, X-rays, ultrasounds, and thermography."2
There are several modalities of treatment the veterinarian might choose for muscle pain that is not caused by an underlying or serious injury. These could include rest, a decrease in hard exercise or training, and the use of medications. "Most muscle injuries are treated with non-steroidal anti-inflammatories to relieve pain, and alternating cold and hot compresses on injured muscles. In cases of trauma, wounds are treated appropriately. Muscle relaxants can also be effective to relieve pain, as well as local anti-inflammatory injections."2
Due to the rising popularity of homeopathics and the often unwelcome side effects of some medications and long-term NSAID use, an increasing number of veterinarians, horse owners and managers have adopted the use of alternative therapies. "Some alternative therapies that may be suggested include massage therapy, acupuncture, chiropractic adjustment, magnetic blankets, or extracorporeal shock wave therapy."2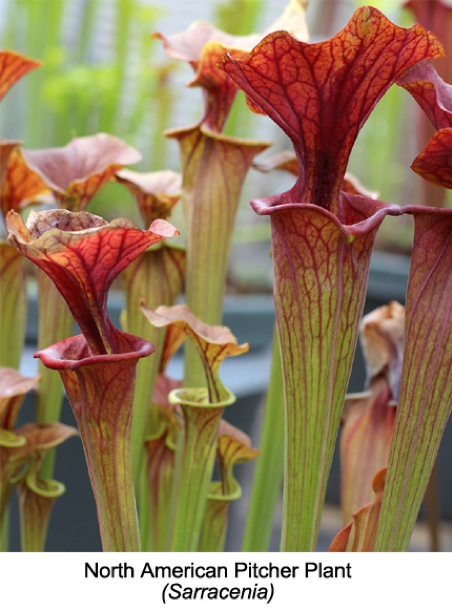 Among these are sarracenia, or the North American Pitcher Plant. Distillates of the pitcher plant have long been used in human and veterinary medicine for "regional analgesia." Pitcher plant derivatives contain tannins and other chemicals that are thought to help with some digestive tract problems and pain sensation. The mechanism of the reported analgesic response is unknown; however, the agent is purported to provide more effective analgesia for slow, chronic pain than for sharp, acute pain.4
Sarracenia's aqueous extracts have been proposed to exert analgesic effects by neurolytical action on peripheral nerves. Studies have shown that sarracenia is can be very helpful in the temporary relief of symptoms associated with neurologic pain in horses.

1Clegg, P. Muscle Strain and Soreness in Horses. Merck Veterinary Manual.
3McDonald, J., Muscle soreness in horses – how to recognize and treat it. Equine Wellness, Sept. 2018.
4Harkins, J.D., et. al. Lack of local anaesthetic efficacy of Sarapin® in the abaxial sesamoid block model. Journal of Veterinary Pharmacology and Therapeutics. March 2007.
About NexGen Pharmaceuticals
NexGen Pharmaceuticals is an industry-leading veterinary compounding pharmacy, offering sterile and non-sterile compounding services nationwide. Unlike other veterinary compounding pharmacies, NexGen focuses on drugs that are difficult to find or are no longer available due to manufacturer discontinuance or have yet to be offered commercially for veterinary applications, but which still serve a critical need for our customers. We also specialize in wildlife pharmaceuticals, including sedatives and their antagonists, offering many unique options to serve a wide array of zoo animal and wildlife immobilization and anesthesia requirements.
Our pharmacists are also encouraged to develop strong working relationships with our veterinarians in order to better care for veterinary patients. Such relationships foster an ever-increasing knowledge base upon which pharmacists and veterinarians can draw, making both significantly more effective in their professional roles.
Disclaimer
The information contained in this blog post is general in nature and is intended for use as an informational aid. It does not cover all possible uses, actions, precautions, side effects, or interactions of the medications shown, nor is the information intended as medical advice or diagnosis for individual health problems or for making an evaluation as to the risks and benefits of using a particular medication. You should consult your veterinarian about diagnosis and treatment of any health problems. Information and statements have not been evaluated by the Food and Drug Administration ("FDA"), nor has the FDA approved the medications to diagnose, cure or prevent disease. Medications compounded by NexGen Pharmaceuticals are prepared at the direction of a veterinarian. NexGen Pharmaceuticals compounded veterinary preparations are not intended for use in food and food-producing animals.
NexGen Pharmaceuticals, LLC does not recommend, endorse or make any representation about the efficacy, appropriateness or suitability of any specific dosing, products, procedures, treatments, services, opinions, veterinary care providers or other information that may be contained in this blog post. NEXGEN PHARMACEUTICALS, LLC IS NOT RESPONSIBLE NOR LIABLE FOR ANY ADVICE, COURSE OF TREATMENT, DIAGNOSIS OR ANY OTHER INFORMATION, SERVICES OR PRODUCTS THAT YOU OBTAIN THROUGH THIS BLOG POST.