When Is A Mare Ready To Breed?
Whether it's the manager of a breeding operation with numerous horses and a schedule to keep, or someone with a beloved mare they'd like to see pass on their genes for the next generation of equestrians in the family, the question of when a mare is ready to breed arises quite frequently. Is there an optimal age to breed a mare? Is there an age at which it is too early to breed? Are there signs that should be looked for (other than the mare cycling)?
As regards most breeds, the available literature suggests that assuming a filly is healthy and on a good plan of nutrition, she can be bred as early as two years of age, although many breeders suggest waiting until three years of age. These sources generally maintain that miniature horses should not be bred until they are four years old, since they are prone to foaling problems.1
General Medical and Reproductive History
In evaluating a mare for breeding, it is important to know her general medical and management history plus a detailed reproductive history. A general history would include:
age
purchase date
performance history
serologic tests
vaccination history
boarding facilities
feed
previous use
intended use
medical history
surgical history
disease problems
weight loss or gain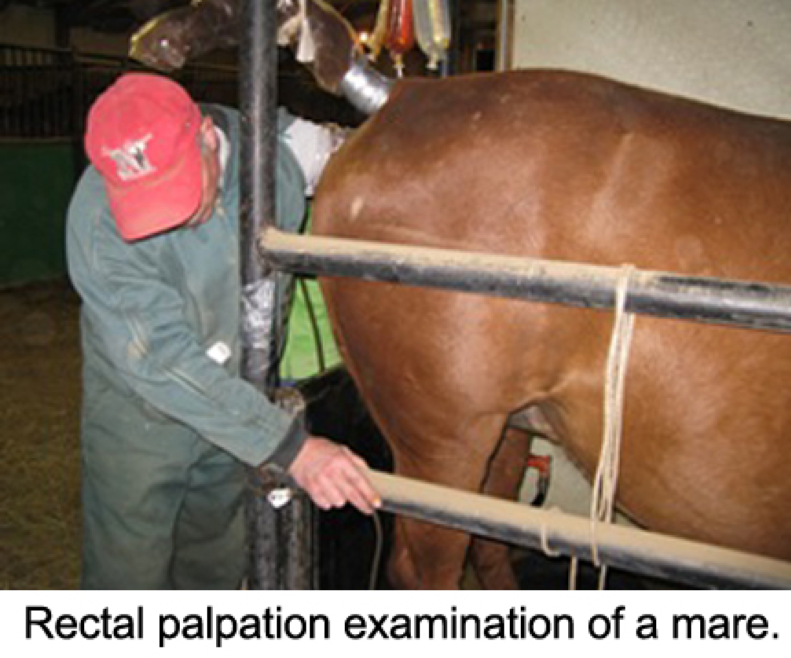 The mare's reproductive history should include:
age at first heat
heat dates
interval between heats
length of heats
age first bred
breeding dates
foaling dates
date of last foaling
abnormal or assisted foalings
number of pregnancies
abnormal pregnancy
previous year's breeding cycle pattern
number of breedings for conception
evidence of vaginal discharge
mothering ability
milk production
teasing method
breeding method (pasture, hand breeding or artificial insemination)3
Planning, Organization and Preparation
Planning to breed a mare is a different proposition for the private horse owner (versus the manager of a breeding operation). The private owner is admonished to do ample research before deciding to breed a mare. "Not only will you need to have a thorough understanding of what is involved in breeding and foaling, but you'll also need to know about how to choose an appropriate stallion for your mare."1
Then, there's the expense, which may or may not fall under "research" depending on the level of knowledge the owner already possesses. As many parents who have heard the request "I want a pony!" from their five year-old can attest, horse husbandry is just not something that can be done on the cheap.
"Before you breed your mare, you need to have substantial savings. Breeding is expensive, and unfortunately, veterinary issues can occur with the mare, foal, or both. The cost of veterinary care can quickly add up, and you may run through your savings at a surprising rate. Being well-prepared financially is the first sign that you are taking the possibility of breeding your mare seriously."1
Is the mare to be bred healthy? Moving forward, it's the single most important factor in the equation. "Your mare may seem perfectly healthy, but a breeding soundness exam by your vet is a good idea. If there's a problem, finding it well in advance of breeding season will give you time to correct it."2 If the mare has foaled before, it is a good idea to have the veterinarian check for any abnormalities in the reproductive tract. Veterinarians may recommend a uterine biopsy for older mares to ensure the lining of the uterus is still in an adequate state to sustain pregnancy.
After a visual examination of the mare, the veterinarian will usually perform a rectal exam, allowing him or her to palpate the mare's ovaries, uterus and cervix.2 In the late Fall and Winter, the mare won't be cycling, but the exam will give the veterinarian the opportunity to check for injuries or congenital abnormalities. Further examination of the ovaries, uterus and cervix can also be done via ultrasound.
"Some veterinarians will obtain endometrial uterine cultures through the use of a vagina speculum. An endometrial biopsy can reveal problems within the uterus that might not be detected by palpation. Hormonal analysis for progesterone, estrogen and/or testosterone may be necessary to differentiate causes of enlarged ovaries."3
In some instances, a veterinarian will also order a uterine culture and cytology, and/or a uterine biopsy. These can help to determine if the mare is suffering from a uterine infection and to detect the presence of inflammatory cells.

Pregnancy and Beyond
Of course, equine breeding operations will have established protocols for the maintenance of a mare in foal; for the first-time private breeder, determining these may require more research and preparation.
"You have to remember that being in foal and growing at the same time put additional stresses on the filly. Does she have good conformation and temperament? Does she have a healthy shape to her back or is it long and weak?"2
The private breeder will need to determine not only what plans they ultimately have for the foal, but for the appropriate accommodation of the mare and foal. Depending upon the existing accommodations available, a dedicated facility may be required for the foal. Like human parents baby-proofing their home, the owner of a mare in foal should be aware that foals require special facilities. "[T]hey need safe pastures and can get themselves trapped in small spaces that other horses cannot. You will either need to design a foal-safe facility, or will need to be prepared to send your mare away for foaling and for the initial care of the foal."2
As far as mares who have a normal working life outside of breeding, the literature suggests that mares may be ridden and lightly worked while in foal, "but should not be in hard training. Mares who are a bit older (5-6 years old), fit and working hard can be bred and kept in work until they are too heavy in foal to be comfortable working, but even then they can go for easy trail rides."1
In planning for the breeding of a mare and determining her soundness, not all of the preparations mentioned nor all of the medical examinations will be required. Examinations will usually be predicated upon the reason for the examination, the stage of life, the stage of cycle and the status of the mare's reproductive tract. For private horse owners, the process can be as varied as an owner's resources and experience allow.
1Harman, A., DVM. Appropriate Breeding Age. Equisearch, Aug. 2011.
2Equisearch Staff. Prepare Your Mare for Breeding. Equisearch, Nov. 2005.
3Troedsson, M.H.T., Breeding Soundness Examination of the Mare. USDA National Institute of Food and Agriculture Extension, Jan. 2020, 1-3.
About NexGen Pharmaceuticals
NexGen Pharmaceuticals is an industry-leading veterinary compounding pharmacy, offering sterile and non-sterile compounding services nationwide. Unlike other veterinary compounding pharmacies, NexGen focuses on drugs that are difficult to find or are no longer available due to manufacturer discontinuance or have yet to be offered commercially for veterinary applications, but which still serve a critical need for our customers. We also specialize in wildlife pharmaceuticals, including sedatives and their antagonists, offering many unique options to serve a wide array of zoo animal and wildlife immobilization and anesthesia requirements.
Our pharmacists are also encouraged to develop strong working relationships with our veterinarians in order to better care for veterinary patients. Such relationships foster an ever-increasing knowledge base upon which pharmacists and veterinarians can draw, making both significantly more effective in their professional roles.
Disclaimer
The information contained in this blog post is general in nature and is intended for use as an informational aid. It does not cover all possible uses, actions, precautions, side effects, or interactions of the medications shown, nor is the information intended as medical advice or diagnosis for individual health problems or for making an evaluation as to the risks and benefits of using a particular medication. You should consult your veterinarian about diagnosis and treatment of any health problems. Information and statements have not been evaluated by the Food and Drug Administration ("FDA"), nor has the FDA approved the medications to diagnose, cure or prevent disease. Medications compounded by NexGen Pharmaceuticals are prepared at the direction of a veterinarian. NexGen Pharmaceuticals compounded veterinary preparations are not intended for use in food and food-producing animals.
NexGen Pharmaceuticals, LLC does not recommend, endorse or make any representation about the efficacy, appropriateness or suitability of any specific dosing, products, procedures, treatments, services, opinions, veterinary care providers or other information that may be contained in this blog post. NEXGEN PHARMACEUTICALS, LLC IS NOT RESPONSIBLE NOR LIABLE FOR ANY ADVICE, COURSE OF TREATMENT, DIAGNOSIS OR ANY OTHER INFORMATION, SERVICES OR PRODUCTS THAT YOU OBTAIN THROUGH THIS BLOG POST.