Guanabenz Acetate 20 mg/mL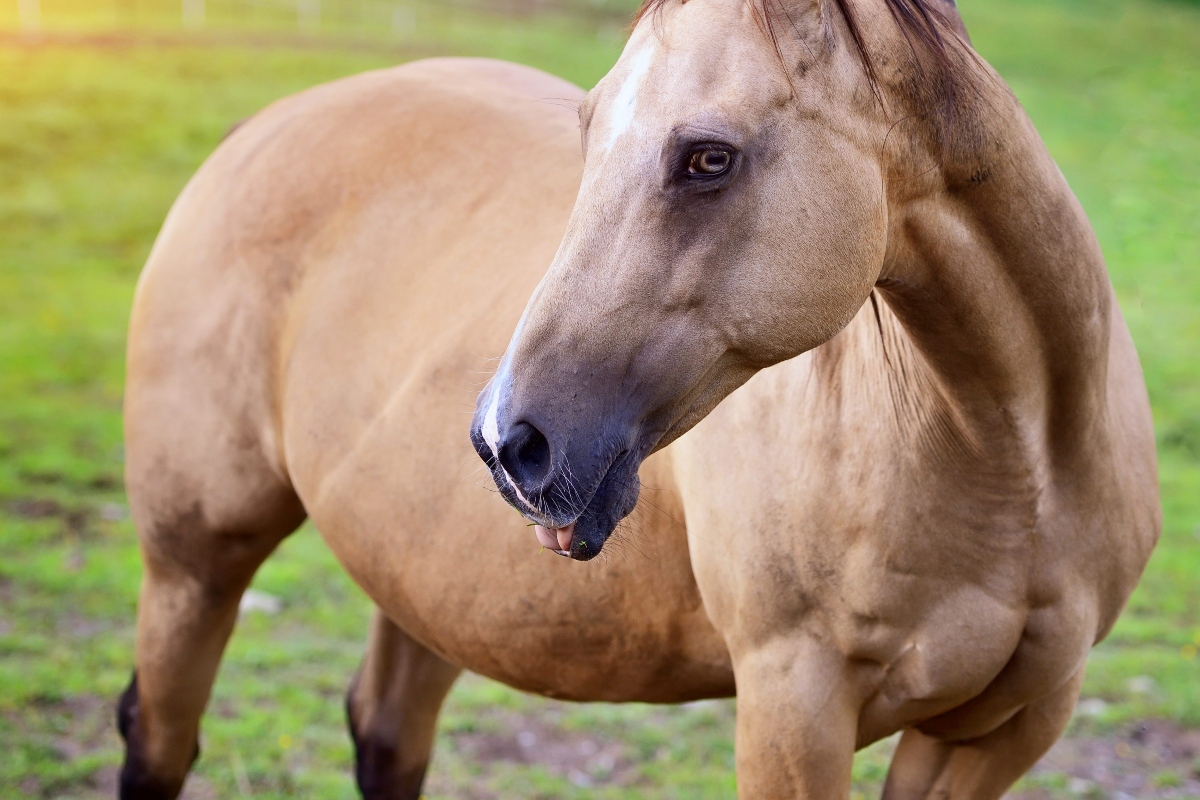 Even occasional equestrians—those who ride recreationally at the local stable or farm every now and then—can attest to the fact that running into a horse with a nervous disposition is extremely common. Sometimes, a horse's nervousness is apparent from the time the horse is taken from her stall, while at other times, a rider will be surprised when a seemingly mellow horse suddenly bolts or rears up with very little provocation.
His state of mind may be plain to see, or it could present itself subtly. Some horses wheel and spin or bolt to a place of comfort—the barn, a stall or a group of buddies. Others grind their teeth while otherwise performing well.
There are infinite reasons why a horse could be nervous in his job. Very often anxiety stems from confusion: The horse doesn't understand where he is, why he's there and what he has to do. Or he may be struggling to comply with a request he finds difficult.1
First Things First
There are numerous methods of dealing with the nervous horse. While it may not be possible to determine what stimuli is giving rise to a horse's skittishness, it is helpful to isolate any such stimuli when possible, as addressing these directly could go a long way toward resolving the issue. Quite often however, the basis for a horse's nervousness may be a function of innate temperament, or some stimulus that will remain a mystery.
The first line of defense, as it were, is behavioral management (training). Like other animals with which humans interact, such as dogs, quite often a horse's troublesome behavior has its roots in the fact that the owner is not sufficiently well-versed in how horses think and behave.
Like many domesticated animals, horses forge relationships with their handlers, and tend to be more comfortable with people they know.
For an anxious horse, it's all about the one-on-one time. The more clarity he has in his partnership with a single person, the better. A nervous horse probably won't do his best in an environment where he works with someone different every time he steps into the ring. This could be a goal for him down the line, but first work on overcoming his anxiety by committing to build a partnership between the two of you.1
These days, there is a great deal of information available (articles, blogs, message boards) wherein seasoned horse owners, managers and veterinarians offer their experience and expertise in the area of managing the nervous horse through behavior modification. This usually involves various exercises and drills that are calculated to incrementally diminish nervousness in the horse.
Supplements and Medication
Occasionally, however, behavior modification through training just won't do the trick. This may be because like humans, some horses are just more high-strung than others.
If the problem is serious enough, medications are a viable course of action, however, most owners and managers would prefer not to have a perpetually sedated horse. This would naturally go double for racing horses or those that need to be alert while they're working.
Here's where supplements come in. Calming supplements appeal to many horse owners, and the proliferation of such supplements is testimony to this. At this point, there are probably thousands of branded calming supplements available for horses on the market, all reported to help the horse be quieter, less reactive, and more able to focus.2 These supplements are available in powder, pellets, granular, paste, liquid, and sometimes as wafers. Most contain an assortment of vitamins, minerals and even herbal remedies. Depending on the form, they can be given to horse directly or during mealtime.
The Third Option
An in-between solution for the chronically-nervous equine lies in compounds that are substantially stronger than supplements, but which do not carry the pitfalls and potential hazards of strong sedatives and psychotropic drugs.
One of these is guanabenz acetate, an alpha agonist of the alpha-2 adrenergic receptor that is used as an antihypertensive drug. Guanabenz produces a rapid acting and long lasting sedative and analgesic effect in a subject animal that is selectively reversible. The use of guanabenz in the horse provides for a safe, effective, long lasting and rapidly reversible sedative and analgesic which can be used on the standing animal.3
Guanabenz is increasingly being used in racing and other performance horses as a calming agent, and to take the edge off excitable and overly anxious horses to improve their focus and manageability. Guanabenz is reported to be a superior solution to the harsher psychotropic drugs which some horse owners use to help horses through stressful situations and to reduce nervous behavior.

1O'Connor, D. Calming the Axious Horse. Equus Magazine, April, 2015.
3Tobin, T. Long Acting, Reversible Veterinary Sedative and Analgesic and Method of Use. (2006).Veterinary Science FacultyPatents. 14.
About NexGen Pharmaceuticals
NexGen Pharmaceuticals is an industry-leading veterinary compounding pharmacy, offering sterile and non-sterile compounding services nationwide. Unlike other veterinary compounding pharmacies, NexGen focuses on drugs that are difficult to find or are no longer available due to manufacturer discontinuance or have yet to be offered commercially for veterinary applications, but which still serve a critical need for our customers. We also specialize in wildlife pharmaceuticals, including sedatives and their antagonists, offering many unique options to serve a wide array of zoo animal and wildlife immobilization and anesthesia requirements.
Our pharmacists are also encouraged to develop strong working relationships with our veterinarians in order to better care for veterinary patients. Such relationships foster an ever-increasing knowledge base upon which pharmacists and veterinarians can draw, making both significantly more effective in their professional roles.
Disclaimer
The information contained in this blog post is general in nature and is intended for use as an informational aid. It does not cover all possible uses, actions, precautions, side effects, or interactions of the medications shown, nor is the information intended as medical advice or diagnosis for individual health problems or for making an evaluation as to the risks and benefits of using a particular medication. You should consult your veterinarian about diagnosis and treatment of any health problems. Information and statements have not been evaluated by the Food and Drug Administration ("FDA"), nor has the FDA approved the medications to diagnose, cure or prevent disease. Medications compounded by NexGen Pharmaceuticals are prepared at the direction of a veterinarian. NexGen Pharmaceuticals compounded veterinary preparations are not intended for use in food and food-producing animals.
NexGen Pharmaceuticals, LLC does not recommend, endorse or make any representation about the efficacy, appropriateness or suitability of any specific dosing, products, procedures, treatments, services, opinions, veterinary care providers or other information that may be contained in this blog post. NEXGEN PHARMACEUTICALS, LLC IS NOT RESPONSIBLE NOR LIABLE FOR ANY ADVICE, COURSE OF TREATMENT, DIAGNOSIS OR ANY OTHER INFORMATION, SERVICES OR PRODUCTS THAT YOU OBTAIN THROUGH THIS BLOG POST.