Shock in Llamas During Capture and Chemical Immobilization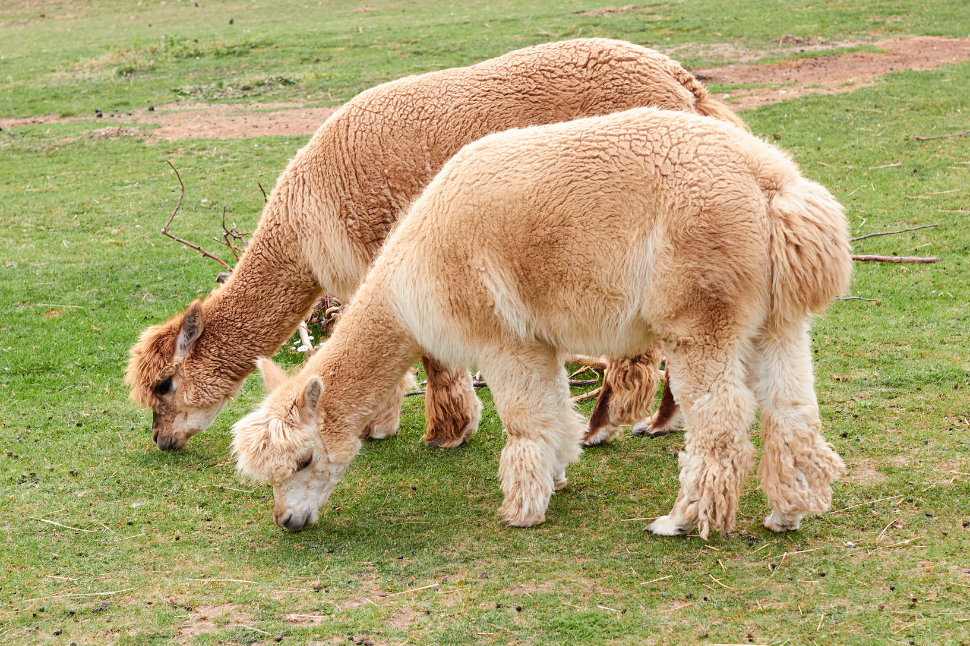 Whether inspiring the sale of cuddly plush toys for kids or the fictional Pushmi-pullyu of Dr. Doolittle fame, the llama (Lama glama) is probably the most widely-recognized of the world's camelids next to the camel itself. The llama is a large camelid that originated in North America about 40 million years ago. In fact, it is the largest of the New World camelids or lamoids, a group that includes llamas, alpaca, guanaco and vicuñas.
The fossil evidence indicates that all camelids originated in North America, and it is believed that one group moved north, crossing the Bering land bridge and evolving into camels about three million years ago, while others migrated south and became New World camelids.1 By the end of the last ice age (approximately 12,000 years ago) camelids were extinct in North America.
The most obvious difference between llamas and camels is that camels have a hump or humps, while llamas do not. While llamas and alpacas are often mistaken for one another, differentiating characteristics between llamas and alpacas are that llamas are around 60% larger.2 Llamas average 45 inches in height at the shoulder, with adult males weighing between 300 and 400 pounds, and adult females weighing between 230 and 350 pounds.2,3 Alpacas also have a more luxurious fleece than llamas, which has led to widespread alpaca farming globally.
The llama's natural environment in the South American Andes is at high altitude and is relatively cool. Like sheep, llamas require shearing through summer to prevent heat stroke. On farms in more temperate regions, a llama's health will benefit from periodic shearing if they live where summers are hot. A llama needs about three inches of its fleece for winter warmth, so a llama sheared to one inch in the spring can grow an adequate coat by the time winter comes.3 In South America, leather is also made from llama hides; the wool is made into ropes, rugs, and fabrics.
In their natural Andean environment, the llama is a grazer and browser with a diet consisting of grasses and leaves. Llamas are adaptive feeders, however; on farms, they will eat grasses, shrubs, trees and hay. Three to five llamas can be grazed per acre, and a bale of hay will feed an adult llama for around a week.2
Shock Risks in the Llama
The management of llamas, as well as research and farming often require the chemical immobilization of individual animals. Unfortunately, this can lead to a variety of capture‐induced risks while these animals are chemically immobilized, including shock. Shock is a critical condition that is brought on by a sudden drop in blood flow throughout an animal's body. It can be the result of a variety of factors, including extreme physical stress, trauma, disease, heatstroke, blood loss, allergic reactions or severe infection. When an animal is in shock, its organs are not receiving an adequate amount of blood or oxygen. Left untreated, it can lead to permanent organ damage or death.
Chemical immobilization events typically include physical stress that may be sufficient to induce shock in animals. The degree of risk depends upon factors such as species, sex, age, overall health, environmental factors, length of immobilization, the degree of stress involved in the capture/immobilization event itself, and the specific chemical agentsinvolved in immobilizing the animal.
There are two recognized types of shock, and these are divided into three categories. The two types of shock are:
Primary shock (or traumatic shock). This type of shock develops immediately after injury, trauma or extensive surgical wounds. It is of nervous origin, transient in nature, causing widespread capillary paralysis. In the case of wild or timid animals, due to restraining or compulsory exercise, this condition may develop.4
Secondary shock. This type of shock can be fatal due to its severity. In secondary shock, a disproportion develops between the volume of blood and the vascular space. Sufficient blood is not present to fill the blood vessels and to maintain the blood pressure leading to lack of availability of blood for pumping out through heart.4
The three categories of shock are as follows:
Circulatory Shock. This occurs when there is a decrease in effective circulating blood volume. This category is further divided into the three subcategories of cardiogenic, hypovolemic and distributive shock. Cardiogenic shock occurs when the circulating volume of blood decreases despite normal or increased blood volume. Hypovolemic shock occurs when blood volume is decreased through hemorrhage, third space fluid distribution, or dehydration. Distributive shock occurs when the body is unable to maintain the vasoconstriction of blood vessels.4
The remaining two categories of shock are hypoxic shock and metabolic shock. Hypoxic shock results from impaired oxygen delivery to cells, while metabolic shock involves cells that have become unable to utilize oxygen for energy production.4,5 In this context, the types of shock being discussed are the subcategories of circulatory shock and hypoxic shock, which are the most likely to be brought on due to capture and/or immobilization events.
How Shock Occurs in the Llama
Practically all of the drugs that produce sedation or anesthesia endanger cardiovascular stability by producing dose-dependent impairment of cardiac function, vascular reactivity and autoregulatory responses.6 Hemoglobin is a substance in the blood that carries oxygen to tissues, and it is found within the red blood cells. Normally, the amount of oxygen delivered to the cell is 2 to 4 times the amount required, which ensures an adequate supply.5 If tissues are not adequately perfused with blood however, the oxygen fails to get to the cells, regardless of the oxygen content in the blood.6
Significant changes in the mean arterial pressure (MAP) trigger changes in heart rate.4,5 An increase in MAP causes bradycardia and vasodilation, while a decrease produces tachycardia and vasoconstriction.2 While anesthesia-related depression of cardiac function and arterial vasodilation are adverse effects that are well-recognized as contributing to anesthetic risk, far less emphasis is typically placed on effects impacting venous physiology and venous return.5
Approximately 70% of an animal's total blood volume is represented by venous circulation and is a chief factor in stroke volume and cardiac output.6 Vasodilation is the primary cause of hypovolemia produced by anesthetic drugs. It is often associated with increased venous compliance, decreased venous return, and reduced response to vasoactive substances.4
Due to their level of domestication, camelids tend to be agreeable when it comes to handling, thus sedatives and anesthetics are easily administered in order to provide immobility and analgesia. General anesthesia techniques are similar to those for ruminants and horses.1,2 Monitoring core body temperature is essential in llama anesthesia, and it is also recommended that llamas be orotracheally intubated for procedures lasting more than 20 minutes.9
Diagnosis and Treatment of Shock in the Llama
Clinical signs of shock in llama can include any combination of the following:
Unresponsiveness
Hypothermia
Tachycardia
Bradycardia
Tachypnea
Bradypnea
Marked hypotension
Cyanosis
Orthopnea
In the llama, the treatment of shock should center on increasing oxygen delivery to the tissues. This can be accomplished by providing supplemental oxygen, increasing effective circulating volume, increasing hemoglobin concentration and increasing cardiac output with stimulants.5,7 If possible, an intravenous catheter may be placed for vascular access. If venous access cannot be established, an intraosseous catheter can be placed. Oxygen supplementation can also provide benefits to the llama experiencing shock. This can be accomplished via flow-by oxygen, mask, nasal cannulas or an oxygen cage.6
With regard to fluid therapy, lactated Ringer's solution, Normosol-R, and Plasma-Lyte are the preferred choices for resuscitation, as these have been shown to cause fewer complications as well as decrease the risk of mortality4 as compared to other options.
Hypertonic saline is also a preferred option for increasing vascular volume. This increases plasma osmolarity; in other words, pulling water into the vascular space from the interstitial space, thereby expanding plasma volume. It bears mentioning that hypertonic saline has unwanted side effects, such as a transient, dose-dependent increase in sodium and chloride.4,5 The administration of blood products is also important for the treatment of shock in llamas.5
4Kulkarni, M.D., et. al. Clinico-Pathological aspects of Shock. Veterinary World, Vol. 2(4):163-165, April 2009.
6Noel-Morgan, J., Muir, W. (2018) Anesthesia-Associated Relative Hypovolemia: Mechanisms, Monitoring, and Treatment Considerations. Frontiers in Veterinary Science, Vol. 5 (53).
7Haller G, Laroche T, Clergue F. Morbidity in anaesthesia: today and tomorrow. Best Pract Res Clin Anaesthesiology (2011) 25(2):123–32.
8Steadman J, Catalani B, Sharp CR, Cooper L. Life-threatening perioperative anesthetic complications: major issues surrounding perioperative morbidity and mortality. Trauma Surg Acute Care Open (2017).
About NexGen Pharmaceuticals
NexGen Pharmaceuticals is an industry-leading veterinary compounding pharmacy, offering sterile and non-sterile compounding services nationwide. Unlike other veterinary compounding pharmacies, NexGen focuses on drugs that are difficult to find or are no longer available due to manufacturer discontinuance or have yet to be offered commercially for veterinary applications, but which still serve a critical need for our customers. We also specialize in wildlife pharmaceuticals, including sedatives and their antagonists, offering many unique options to serve a wide array of zoo animal and wildlife immobilization and anesthesia requirements.
Our pharmacists are also encouraged to develop strong working relationships with our veterinarians in order to better care for veterinary patients. Such relationships foster an ever-increasing knowledge base upon which pharmacists and veterinarians can draw, making both significantly more effective in their professional roles.
Disclaimer
The information contained in this blog post is general in nature and is intended for use as an informational aid. It does not cover all possible uses, actions, precautions, side effects, or interactions of the medications shown, nor is the information intended as medical advice or diagnosis for individual health problems or for making an evaluation as to the risks and benefits of using a particular medication. You should consult your veterinarian about diagnosis and treatment of any health problems. Information and statements have not been evaluated by the Food and Drug Administration ("FDA"), nor has the FDA approved the medications to diagnose, cure or prevent disease. Medications compounded by NexGen Pharmaceuticals are prepared at the direction of a veterinarian. NexGen Pharmaceuticals compounded veterinary preparations are not intended for use in food and food-producing animals.
NexGen Pharmaceuticals, LLC does not recommend, endorse or make any representation about the efficacy, appropriateness or suitability of any specific dosing, products, procedures, treatments, services, opinions, veterinary care providers or other information that may be contained in this blog post. NEXGEN PHARMACEUTICALS, LLC IS NOT RESPONSIBLE NOR LIABLE FOR ANY ADVICE, COURSE OF TREATMENT, DIAGNOSIS OR ANY OTHER INFORMATION, SERVICES OR PRODUCTS THAT YOU OBTAIN THROUGH THIS BLOG POST.