Respiratory Depression in Bactrian Camels During Chemical Immobilization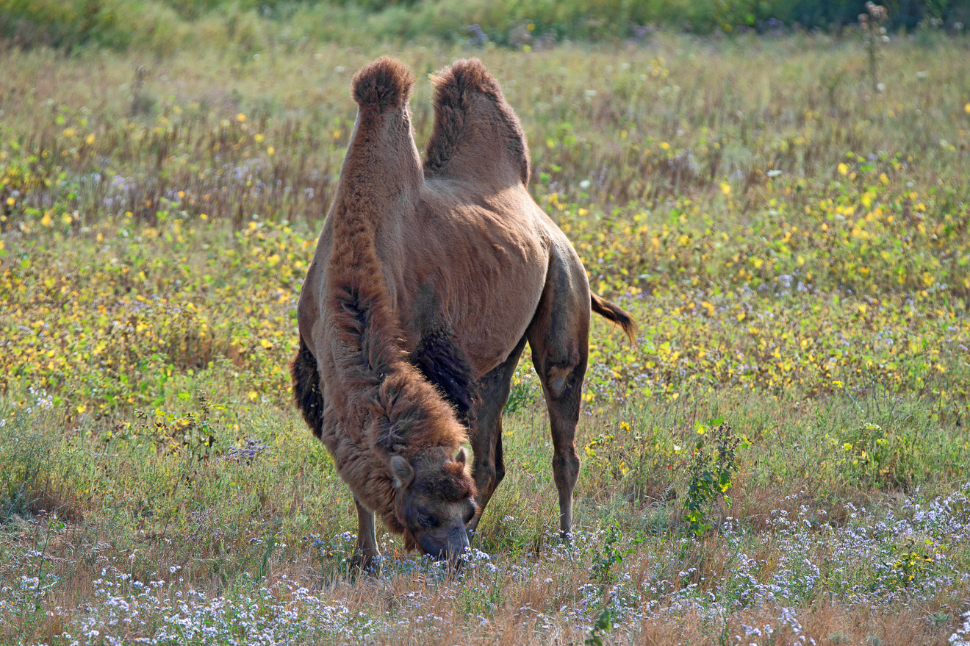 For the purposes of translocation, diagnostic testing and medical treatment, chemical immobilization has become the preferred method of capture for large wildlife species. In the majority of cases, this has proven to be a safer, superior method to traps, capture with nets and the mass-capture of herds of animals. It should be noted however, that any capture method can cause significant stress and trauma to target animals, potentially giving rise to complications.
In zoos, farms, preserves and certain free-ranging situations, chemical immobilization is usually carried out from the ground. In other circumstances, animals are located and darted from a helicopter. Remote drug delivery systems are typically used for the purpose of chemical immobilization, usually via a dart gun or blowpipe. Drugs are injected by means of a dart syringe which is fired from the dart gun at a distance.
Since the volume of drugs that a dart can hold is a limiting factor, immobilizing drugs must be highly potent and concentrated. They must also have a high therapeutic index and wide safety margin, since in many cases, animals cannot be evaluated prior to immobilization. The ideal drugs need to be fast-acting to limit stress and the likelihood of escape following darting. They should also be reversible, since animals are often released back into their native environments immediately after the capture event.
Bactrian Camels and Chemical Immobilization
Camelus bactrianus, or the Bactrian camel, inhabits parts of central Asia and China. These animals are distinguished from dromedary camels (Camelus dromedarius) in that they have two humps on their backs, whereas dromedary camels have only one.1 Both species are large animals with an average height of 7 feet. Males can weigh up to 1,400 pounds; females are about 10% smaller and lighter. Bactrian camels are also noted for their shaggy coats, which they shed during the summer months.
Camels were used extensively as pack animals on the Silk Road, the network of Eurasian trade routes that was active from the second century BCE until the mid-15th Century. This was because they could carry more weight than horses or donkeys, needed less water and were able to thrive on tough desert plants. Dromedary camels were used primarily on western Silk Road routes, while Bactrian camels were used in the colder areas of Central Asia, Mongolia and China.2
Bactrian camels have a double row of eyelashes that block the harsh winds which can blow sand and dust into the camels' eyes. Their ears are also lined with hair and their top lip is divided to aid in foraging in harsh conditions. Their nostrils can also be closed to shield against dust and sand.
Like dromedary camels, most of the Bactrian camels living today have been domesticated. There are however, herds of wild Bactrian camels in China and Mongolia. Wild Bactrian camels live in herds of about 6 to 20, although they sometimes gather in groups of up to 30 individuals. Herds typically consist of one alpha adult male leading adult females and their calves. Bactrian camels are not territorial; occasionally, multiple herds will cross paths and form a larger herd which can number in the hundreds. Herds spend the majority of their days migrating and grazing. During the winter months, Bactrian camels migrate to the Gobi desert steppe, returning to the desert when the snow melts in the spring.1
The Bactrian camel's breeding season takes place in March and April. Calves are fully mobile within the first 24 hours after birth. Calves in the wild are typically weaned within the first two years.1,3
Bactrian Camels and Respiratory Depression
The chemical immobilization of Bactrian camels carries the risk of a variety of complications. Even with highly-domesticated animals such as camels, animals are often inordinately stressed and can run long distances before they are fully immobilized. Further, most of the drugs used for immobilization have side effects; they not only cause sedation by influencing the central nervous system, but also influence cardiovascular, respiratory and thermoregulatory functions.5The most commonly-encountered problems during wildlife immobilization events include respiratory depression, cardiovascular disturbances, bloat, compromised thermoregulation, hypoxia and capture myopathy.5-7
Potent opioids are often used for the chemical immobilization of camels and other wildlife due to their reliability and effectiveness. A disadvantage of using these drugs however, is that they cause clinically significant respiratory depression due to their potent effect on mu-opioid receptors.5 Activation of mu-opioid receptors in the respiratory centers of animals depresses neurons that generate the normal respiratory rhythm. At the same time, activation of these receptors stimulate other receptors in the brain stem, on the aortic arch and carotid bodies, which depresses respiratory function.6 Other classes of drugs also have the potential to compromise respiratory function (e.g., causing hypoxia).
Treating Respiratory Depression in Bactrian Camels
Several approaches are commonly used to alleviate opioid-induced respiratory depression in camels undergoing chemical immobilization. Assisted ventilation and oxygen insufflation can combat hypoxia brought on by some immobilizing agents,5 while agents such as opioid antagonists or partial antagonists can be used. Unfortunately, the latter also reduce desirable effects, such as the degree of immobilization, sedation and analgesia. Respiration can also be improved with respiratory stimulants which act on non-opioid receptor systems such as potassium channel blockers, ampakines and serotonin receptor agonists.7
Oxygen supplementation is recommended during wildlife immobilization and can be combined with a partial opioid reversal agent to better alleviate hypoxia.5 Naltrexone may be used to fully reverse opioid-based immobilization after capture, especially if the animal needs to be released back into the field and must be fully alert. Signs of recovery after naltrexone administration typically consist of increased respiratory depth, followed by ear twitching, eye movement and lifting of the head.5
Partial opioid antagonists or mixed agonists/antagonists may be used for the reversal of opioids such as diprenorphine, nalorphine or butorphanol if residual analgesic or sedative effects are required.6,7 Partial mu-receptor antagonists (e.g., butorphanol) can be used to alleviate respiratory depression caused by strong mu-agonistic immobilization drugs.4,7 Some of these partial antagonists, however, also reduce the immobilization effects of opioids. Potassium channel blockers such as doxapram can also be used to stimulate breathing. Doxapram is widely used as a respiratory stimulant by veterinarians. It has been shown to increase the minute ventilation in large herbivores immobilized with etorphine.5
While safe and effective drug combinations used for remote drug delivery were not always commercially available as pre-mixed solutions, many of these can now be purchased as highly-concentrated drug formulations for this purpose from compounding pharmacies. Many of these formulations are often species-specific, more reliable and are less likely to bring about complications such as respiratory depression in Bactrian camels than drugs and combinations used in the past.
4Arnemo, J. Kreeger, T. (2018). Handbook of Wildlife Chemical Immobilization 5th Ed. Sunquest Publishing, 2007.
5Arnemo, J., et. al. Field Emergencies and Complications. In: G. West, D. Heard, & N. Caulkett, eds. Zoo Animal and Wildlife Immobilization and Anaesthesia. Oxford: Wiley Blackwell, pp. 139–147.
6Bailey, P.L., et. al. (1985) The ED50 of carfentanil for elk immobilization with and without the Tranquilizer R51703. The Journal of Wildlife Management, 49(4), pp.931–934.
7Van der Schier, R., et. al. (2014) Opioid-induced respiratory depression: reversal by non-opioid drugs. F1000 Prime Reports, 6, pp.1–8.
About NexGen Pharmaceuticals
NexGen Pharmaceuticals is an industry-leading veterinary compounding pharmacy, offering sterile and non-sterile compounding services nationwide. Unlike other veterinary compounding pharmacies, NexGen focuses on drugs that are difficult to find or are no longer available due to manufacturer discontinuance or have yet to be offered commercially for veterinary applications, but which still serve a critical need for our customers. We also specialize in wildlife pharmaceuticals, including sedatives and their antagonists, offering many unique options to serve a wide array of zoo animal and wildlife immobilization and anesthesia requirements.
Our pharmacists are also encouraged to develop strong working relationships with our veterinarians in order to better care for veterinary patients. Such relationships foster an ever-increasing knowledge base upon which pharmacists and veterinarians can draw, making both significantly more effective in their professional roles.
Disclaimer
The information contained in this blog post is general in nature and is intended for use as an informational aid. It does not cover all possible uses, actions, precautions, side effects, or interactions of the medications shown, nor is the information intended as medical advice or diagnosis for individual health problems or for making an evaluation as to the risks and benefits of using a particular medication. You should consult your veterinarian about diagnosis and treatment of any health problems. Information and statements have not been evaluated by the Food and Drug Administration ("FDA"), nor has the FDA approved the medications to diagnose, cure or prevent disease. Medications compounded by NexGen Pharmaceuticals are prepared at the direction of a veterinarian. NexGen Pharmaceuticals compounded veterinary preparations are not intended for use in food and food-producing animals.
NexGen Pharmaceuticals, LLC does not recommend, endorse or make any representation about the efficacy, appropriateness or suitability of any specific dosing, products, procedures, treatments, services, opinions, veterinary care providers or other information that may be contained in this blog post. NEXGEN PHARMACEUTICALS, LLC IS NOT RESPONSIBLE NOR LIABLE FOR ANY ADVICE, COURSE OF TREATMENT, DIAGNOSIS OR ANY OTHER INFORMATION, SERVICES OR PRODUCTS THAT YOU OBTAIN THROUGH THIS BLOG POST.