Hypothermia and Hyperthermia in Alpaca During Chemical Immobilization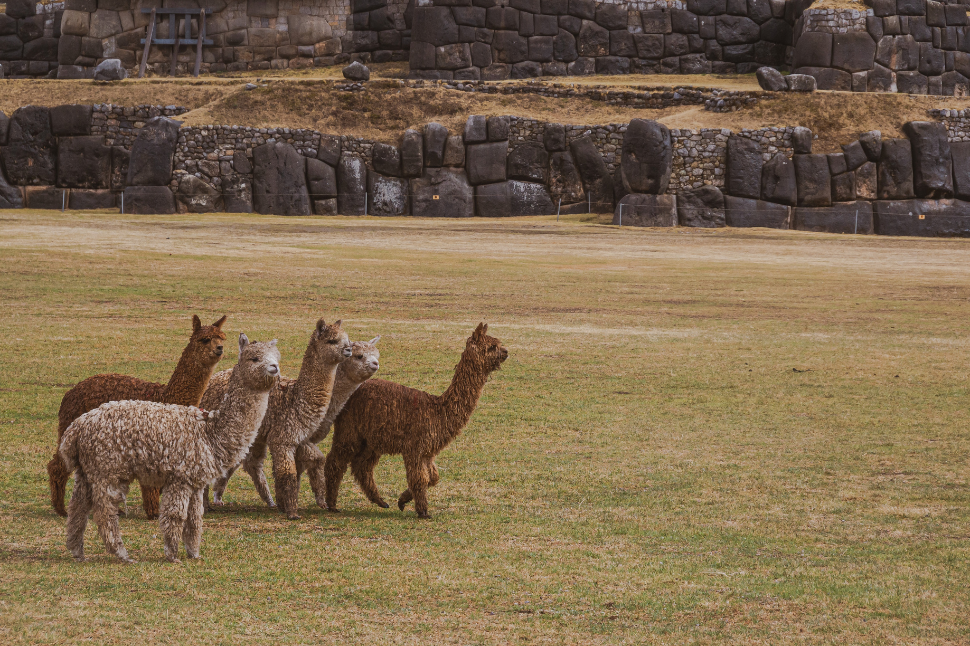 Lamoids are a group of South American camelids (Camelidae) that includes llamas, alpacas, vicuñas, and guanacos. Many of these animals have been domesticated for thousands of years. Over many years, some have been interbred and developed for various uses, such as pack animals, food or fleece. Lamoids are also referred to as New World camelids.
The alpaca (Vicugña pacos) is a lamoid that is native to the Andes and which has been used for its fleece since it was domesticated approximately 4000-6000 years ago. Like camels, lamoids are believed to have originated in North America over 40 million years ago, with lamoids migrating to South America and camels migrating east via the Bering Strait and later becoming extinct in North America.1 While camels, llamas, and alpacas have been domesticated for thousands of years, undomesticated guanacos and vicunas still exist in the wild.
Alpacas are slender-bodied, with a long neck and long legs, a short tail, a small head, and large, tapering ears. They are the most limited in range and the most specialized of the four species of lamoids, being adapted to altitudes from 13,000 to 15,500 feet.2 They are distinguished from llamas (the largest South American camelids) by their smaller size, and they are the smallest of the domesticated lamoids. The weight of an adult alpaca ranges from 120 to 140 lbs, with a height ranging from 2 to 3 feet.
Lamoids vary by size and purpose, with some (such as llamas) being used as pack animals and others (such as alpacas) being valued for their fleece.1 Alpacas are the most widely-used lamoids for fleece production. There are two breed types of alpaca: the huacaya and the suri. Huacayas are the more common type, and account for about 90% of all alpacas.2 The two breed types differ primarily in terms of the properties of their fleece. The fleece of the alpaca is lightweight, strong, high in insulation value and very resistant to moisture. Alpaca wool fibers are hollow, which gives them the ability to insulate very well, and to absorb moisture. As a result, alpaca farming has become a worldwide industry.
Alpacas are pseudo-ruminants, possessing a single stomach divided into three compartments (instead of four, like other ruminants). They produce rumen, chew cud and are able to process food very efficiently. In the field, alpacas graze on grasses and plants. Alpacas have a split upper lip that is mobile and highly-sensitive. The split in the upper lip allows the alpaca to be a discriminating eater; as they graze, alpacas tend not to ingest undesirable foreign bodies. On farms, alpacas will eat grass or hay. They consume approximately two pounds per 125 pounds of body weight daily in hay or fresh pasture. Some farmers feed extra alfalfa to alpacas that are leaner, or those which live in very cold temperatures.3
The alpaca's mating period runs from August through September. Their babies are called crias, which typically weigh 15-20 pounds at birth. Adult alpaca reach about 3 feet in height and 150 pounds in weight.2 Alpacas live 15 to 25 years.
Hypothermia and Hyperthermia in Alpaca
Despite the high level of domestication of alpaca and their pleasant nature, their capture can be a stressful event which has the potential to cause capture-induced hypothermia or hyperthermia. Either of these complications can result in morbidity or mortality. The severity of the capture-induced hyperthermia has been associated with the likelihood of organ damage, alterations in electrolyte balance (possibly leading to dehydration events), increased oxidative stress and death.4 It has also been called one of the primary indications for the development of capture myopathy, another potentially fatal complication of capture.
The mechanisms underlying the increase in body temperature during capture-induced hypothermia and hyperthermia are not fully understood, but the sympathetic stress response appears to be a factor. Even animals engaging in low levels of activity during capture with mild ambient temperatures can develop severe hyperthermia.5
Avoiding Hypothermia and Hyperthermia in Alpaca
The normal body temperature for alpaca adults and crias is from 99.5-102 degrees Fahrenheit, although the temperature of newborn crias can run slightly higher. Measuring body temperature should always be standard procedure during all anesthetic events involving alpaca. Hypothermia is more common in small animals because of the large surface area-to-volume ratio, but instances of both hypothermia and hyperthermia have both been reported during the capture of alpaca.
Certain drugs used in chemical immobilization are known to suppress normal thermoregulatory mechanisms, thereby potentially causing hypothermia or hyperthermia. Hyperthermia however, is also common immediately after the immobilization of both captive and free-ranging hoofstock due to excitement and struggling after being darted.4-6
Intubation has been widely recommended for any anesthetized alpaca that needs to be transported or anesthetized for greater than twenty minutes,and monitoring core body temperature is essential in alpaca anesthesia.4 Until the more recent use of formulated drugs (e.g., combinations of α2-agonists such as medetomidine, detomidine, xylazine and their reversal agents), opioids were the mainstay of alpaca anesthesia.6
Treating Hyperthermia in Alpaca
Physically cooling captured alpaca is the method most widely recommended for improving their chances for survival during chemical immobilization. Physical cooling has been known to be highly effective even when capture-induced hyperthermia in an alpaca is severe. Teams and handlers in the field should be prepared for this contingency and have the proper equipment on hand.
Other recommendations for cooling captured alpaca include placing the animals in the shade and dousing them with water using portable mist sprayers, followed by rapid intravenous (IV) fluid therapy.5 In animals with body temperatures greater than 41°C, the use of cold water enemas and intravenous infusion of cold Ringer's lactate is also recommended.6
Ice packs have been reported to restore the body temperature of hyperthermic alpaca to pre-capture levels.5 Since carrying water is far less cumbersome and difficult than transporting and maintaining ice-packs in the field, water-dousing is the more practical and effective first intervention for cooling an alpaca with capture-induced hyperthermia.
Treating Hypothermia in Alpaca
Hypothermia during chemical immobilization events (sedation or anesthesia) is a common adverse effect of anesthesia in many species. Smaller animals are generally more susceptible to hypothermia during anesthetic events, but large hoofstock and even carnivores can be affected.6 Thermal support (e.g., external heating devices) during and after anesthesia can dramatically improve outcomes in the event of hypothermia during or after a procedure. Handlers should note that the time of recovery from anesthesia will be longer in case of injectable anesthesia rather than inhalant anesthesia.
In addition to abnormally low body temperature, signs of hypothermia in alpaca may include:
Shivering
Stiff muscles
Pale or gray gums
Fixed and dilated pupils
Low heart and breathing rates
In mild hypothermia, shivering may be the only observable symptom. As the condition increases in severity, some of the other listed symptoms can become evident. The alpaca's vital signs may become increasingly erratic as its body goes into heat conservation mode.6 At this point, the animal's body is trying to keep its vital organs from shutting down by restricting the blood flow from other parts of the body.
To raise the alpaca's body temperature, water bottles filled with warm water and placed around the animal's body. External heating devices (e.g., heating pads) may also be used, although these should be used with care, as it is easy to burn an animal's skin.7 Returning the animal to a warm environment and/or using heat lamps (if available) can also be helpful.
5Arnemo, J., Fahlman, A. (2008). Biomedical protocols for the free-ranging brown bears, gray wolves, wolverines and lynx. Hedmark University College, Norway and Swedish University of Agriculture Sciences, Sweden.
6Arnemo, Jon & Kreeger, Terry. (2018). Handbook of Wildlife Chemical Immobilization 5th Ed. Sunquest Publishing, 2007.
7Richardson, D. Journal of Mammalogy, Volume 56, Issue 3, 29 August 1975, Pages 698–699.
About NexGen Pharmaceuticals
NexGen Pharmaceuticals is an industry-leading veterinary compounding pharmacy, offering sterile and non-sterile compounding services nationwide. Unlike other veterinary compounding pharmacies, NexGen focuses on drugs that are difficult to find or are no longer available due to manufacturer discontinuance or have yet to be offered commercially for veterinary applications, but which still serve a critical need for our customers. We also specialize in wildlife pharmaceuticals, including sedatives and their antagonists, offering many unique options to serve a wide array of zoo animal and wildlife immobilization and anesthesia requirements.
Our pharmacists are also encouraged to develop strong working relationships with our veterinarians in order to better care for veterinary patients. Such relationships foster an ever-increasing knowledge base upon which pharmacists and veterinarians can draw, making both significantly more effective in their professional roles.
Disclaimer
The information contained in this blog post is general in nature and is intended for use as an informational aid. It does not cover all possible uses, actions, precautions, side effects, or interactions of the medications shown, nor is the information intended as medical advice or diagnosis for individual health problems or for making an evaluation as to the risks and benefits of using a particular medication. You should consult your veterinarian about diagnosis and treatment of any health problems. Information and statements have not been evaluated by the Food and Drug Administration ("FDA"), nor has the FDA approved the medications to diagnose, cure or prevent disease. Medications compounded by NexGen Pharmaceuticals are prepared at the direction of a veterinarian. NexGen Pharmaceuticals compounded veterinary preparations are not intended for use in food and food-producing animals.
NexGen Pharmaceuticals, LLC does not recommend, endorse or make any representation about the efficacy, appropriateness or suitability of any specific dosing, products, procedures, treatments, services, opinions, veterinary care providers or other information that may be contained in this blog post. NEXGEN PHARMACEUTICALS, LLC IS NOT RESPONSIBLE NOR LIABLE FOR ANY ADVICE, COURSE OF TREATMENT, DIAGNOSIS OR ANY OTHER INFORMATION, SERVICES OR PRODUCTS THAT YOU OBTAIN THROUGH THIS BLOG POST