Chemical Immobilization of the Llama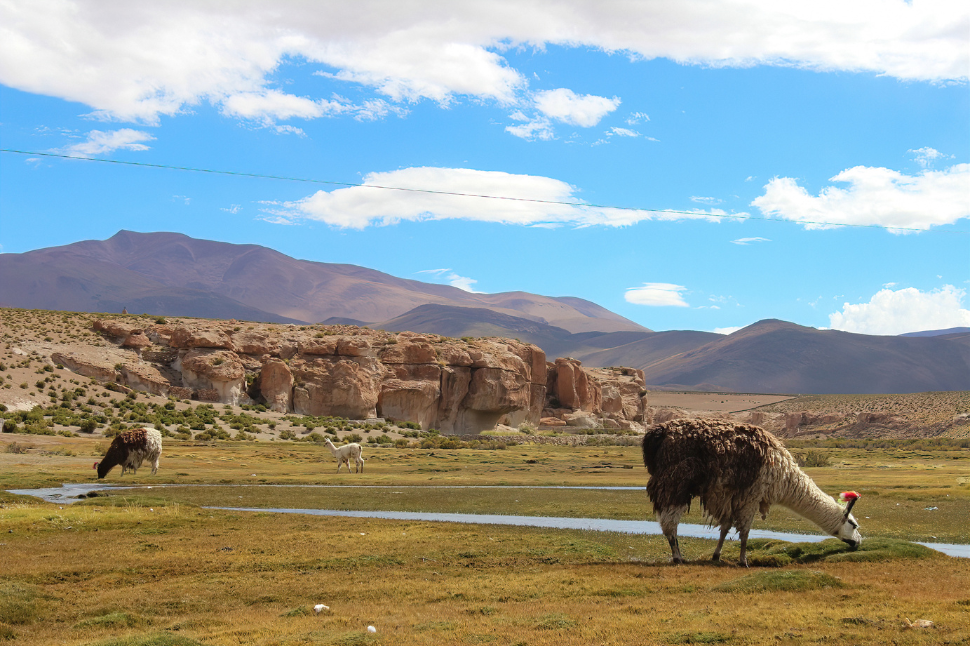 Veterinarians, wildlife managers and llama farmers are often called upon to immobilize llamas to mark them for identification, provide veterinary treatment or to perform management functions. While the term "immobilization" references any forced restriction of movement of all or part of an animal's body, chemical immobilization achieves immobilization using drugs which bring about a variety of intended effects. These may include unconsciousness with lack of sensation (anesthesia), or muscular paralysis while the animal is fully or partially conscious (sedation).
The immobilization of large wildlife species poses challenges with risks for both handlers and target animals, and this is where immobilization via chemical means is useful. An animal's threshold of tolerance refers to the point at which a trapped animal will become aggressive upon human approach.1
The Llama: Background and Biology
The llama (Llama glama) is a domesticated pack animal that has been used for centuries by peoples in the Andean mountains of South America. Like some lamoid species such as the alpaca, llamas have been so widely domesticated that there are no longer llamas occurring in the wild.
Llamas may be the most well-known members of the camel family (Camelidae) next to the camel itself, although llamas lack the characteristic back humps of Old World camelids. Llamas are New World camelids, since they occur in the Western Hemisphere. This group of animals, which includes llamas, alpacas, vicuñas and guanacos, also goes by the term "lamoids."2
According to the fossil record, the forerunners of modern llamas evolved in North America approximately 40 million years ago and migrated to South America approximately 3 million years ago. Other prehistoric camelids migrated west via the Bering land bridge, later becoming modern camels. Scientists believe that at the end of the last ice age (approximately 10 thousand years ago) the ancestors of llamas became extinct in North America.2 Today, the majority of llamas live in Argentina, Bolivia, Chile, Ecuador, and Peru.
Over the last 40 years, South American exporters have been exporting llamas to farmers and breeders around the world, primarily North America, Australia, and Europe. As a result, these animals have become very popular among farmers, breeders, and exotic pet enthusiasts.3
The llama is the largest of the New World camelids, which is why it is a so widely engaged as a pack animal across its Andean range. Adult llamas range in height from 5-1/2 feet to 6 feet tall and weigh between 290 to 440 pounds.1 They have short tails and large, tapering ears. Their feet are narrow and padded on the bottom, allowing them to comfortably navigate rough mountain terrain.3
Llamas are social animals that do very well living in herds. Male llamas are called "studs" or "machos," while females are called "dams" or "hembras." Castrated males are known as "geldings." Llamas communicate through a variety of humming sounds, and it is said that they can distinguish between different vocalizations. When they recognize danger, llamas will let out a shrill moan to alert members of the herd. In South America, llamas are sometimes used as livestock guards for flocks of sheep.4
Despite the llama's tractability, the literature recommends that llama owners and farmers refrain from oversocializing these animals with humans, since it can lead to something called "berserk llama syndrome." This is reported as a psychological condition that affects male llamas when they become too comfortable with humans, see them as fellow herd members and try to dominate them.4
In its natural environment, the llama's diet consists mainly of grass. Like cows, llamas regurgitate their food and chew it as cud. Unlike cows however, llamas are pseudo ruminants with a three-chambered stomach (as opposed to cows, which have a four-chambered one). Llamas have a very long large intestine which allows them to go for long periods without water.3 Llamas breed in the late summer and fall. Their gestation period is approximately 11 months, after which the female gives birth to one young.4
Sedation and Anesthesia of Llamas
Even considering the llama's high level of domestication, an adult llama is large enough to be considered difficult to handle in the event that it becomes frightened or agitated. Thus, chemical agents (sedatives and/or anesthetics) may be delivered by hand to a restrained llama by using a pole syringe, or by using a capture gun (either a handgun or along gun). Capture guns are fired by CO2 gas cartridges or with .22 caliber blanks. Depending on the device, the effective range may be up to 60 yards.8 Remote chemical immobilization is often carried out by approaching an llama and shooting a dart from an off-road vehicle, a snowmobile, or from the ground.
Risks associated with the chemical immobilization of llamas include, but are not limited to capture myopathy, hypothermia, hyperthermia, respiratory depression/arrest, aspiration and cardiac arrest. If the onset of immobilizing drugs is slow, the risk of physical injury such as lacerations, limb injuries, head trauma etc. is increased. So it is extremely important for the capture team to be familiar with animal handling and immobilization techniques, as well as potential emergencies.
A llama may be immobilized using heavy sedation or general anesthesia, depending on the procedure(s) being performed. Choices of drugs and/or combinations must be of proven safety and calculated for the llama's weight, age, physiological and reproductive status and body condition.9,10
Most camelids (llamas, alpacas and camels) are typically agreeable when it comes to handling, thus physical restraint and local anesthetic techniques are often used to provide immobility and analgesia. General anesthesia techniques are similar to those for ruminants and horses. Regurgitation of compartment one (C1) of the stomach contents (which can occur in many chemically-immobilized ruminants), postoperative nasal congestion and associated respiratory distress postextubation are potential hazards associated with anesthesia in llamas.7
Immobilizing Agents for Llamas
The possession and use of drugs used to immobilize llamas is governed by federal and state regulations in the United States. All drugs currently used to sedate or immobilize wild animals are prescription drugs which must be used by or on the order of a licensed veterinarian. This requires that a veterinarian must be involved in the process, but it does not mean that a veterinarian must be physically present during the immobilization process. Some drugs used chemical immobilization are also classified as controlled drugs, the possession of which requires a U.S. Drug Enforcement Agency registration number, special record keeping and special storage. Non-veterinarians handling or administering prescription drugs should receive sufficient training in their use.
The classes of immobilizing drugs used on llamas include:
Opioid Anesthetics: The opioids have been used for the chemical immobilization of wildlife since the 1960s and are the most potent drugs available for this purpose. The most commonly used opioid for wildlife immobilization is carfentanil. A major advantage in the use of opioids is the availability of specific antagonists. The potency of opioids, such as etorphine and carfentanil, is both an advantage and disadvantage. The advantage is the reduced volume of drug required for immobilization makes them the only class of drugs capable of remote immobilization of large animals. The disadvantage is that they are potentially toxic to humans. Death is almost always due to respiratory failure. Opioids should never be used while working alone or without having an antagonist on hand.9
Tranquilizers/Sedatives: Tranquilizers are used in wildlife immobilization primarily as adjuncts to primary anesthetics (e.g., ketamine, carfentanil) to hasten and smooth induction and recovery and to reduce the amount of the primary agent required to achieve immobilization. Valium is used primarily for small mammals as an anticonvulsant adjunct to ketamine anesthesia, and it is also an excellent muscle relaxant.
The α-adrenergic tranquilizers (e.g., xylazine or Rompun, medetomidine) are potent sedatives that can be completely antagonized.9 These are often combined with ketamine, Telazol, or carfentanil. By themselves, they are capable of heavily sedating animals, particularly ungulates, to the point of relatively safe handling. However, animals sedated with these tranquilizers generally can be aroused with stimulation and are capable of directed attack.
Paralytic Drugs: The neuromuscular blocking (NMB) or paralytic drugs are some of the earliest drugs used for the chemical immobilization of wildlife, and are being used less frequently today than in years past. Despite their long history, NMB drugs are generally inferior to modern drugs. There are two major deficiencies of NMB drugs. One is that NMB drugs have a very low safety margin: dosage errors of only 10% can result in either no effect (underdosing) or death by asphyxia (overdosing). Mortality rates as high as 70% have occurred.10
The second deficiency is that NMB drugs are virtually devoid of central nervous system effects because of their inability to cross the blood-brain barrier. Thus, an animal paralyzed with NMB drugs is conscious, aware of its surroundings, fully sensory, and, as such, can feel pain and experience psychogenic stress yet is physically unable to react.9,10 Because of these deficiencies, NMB drugs should be used judiciously.
Dissociative Anesthetics: This group of drugs (e.g., ketamine, tiletamine) is characterized by producing a cataleptic state in which the eyes remain open with intact corneal and light reflexes. Ketamine is one of the most widely used drugs for wildlife immobilization because of its efficacy and safety. Tiletamine is unavailable as a single product and it is combined in equal proportions with the diazepinone tranquilizer, zolazepam (e.g., Telazol).When used singly, ketamine usually cause rough inductions and recoveries, and convulsions are not uncommon.11 Because of this, they are usually administered concurrently with tranquilizers or sedatives. There is no complete antagonist for ketamine or Telazol.
Recovery and Reversal Agents
The duration of anesthesia in llamas will be influenced by the drugs used, age, sex, body weight, procedure performed and the amount of stimulus during the procedure. Whether sedation or general anesthesia has been used, reversal agents are often required to neutralize sedation or anesthetic agents. These allow the llama to completely recover from being anesthetized prior to release.
In recent years, chemical immobilization protocols and drug development have been significantly improved in order to keep these within safety margins through the use of novel anesthetics and combinations of true anesthetics, neuromuscular blockers and tranquilizers.11 The use of antagonists (reversal agents) to anesthetics is now widely employed, as this avoids the undesirable and potentially harmful effects of drugs and facilitates speedy recovery from chemical immobilization events.9,10
Finally, veterinary custom compounding pharmacies have widely expanded the variety, availability and efficacy of immobilizing drugs through the development of custom formulations for wildlife such as llamas. Some of these are available in kit form, which include both the immobilizing drugs and antagonists.
7Balko, J. et al. Advancements in Evidence-Based Anesthesia of Exotic Animals. Veterinary Clinics: Exotic Animal Practice, Volume 20, Issue 3, 917 – 928.
8Arnemo, Jon & Kreeger, Terry. (2018). Handbook of Wildlife Chemical Immobilization 5th Ed.
9Nielsen, L. Chemical Immobilization of Wild and Exotic Animals. (1999) Ames, Iowa, Iowa State University Press.
10Stoskopf, M. Handbook of Wildlife Chemical Immobilization. Journal of Wildlife Diseases 2014 50:1, 157-157.
About NexGen Pharmaceuticals
NexGen Pharmaceuticals is an industry-leading veterinary compounding pharmacy, offering sterile and non-sterile compounding services nationwide. Unlike other veterinary compounding pharmacies, NexGen focuses on drugs that are difficult to find or are no longer available due to manufacturer discontinuance or have yet to be offered commercially for veterinary applications, but which still serve a critical need for our customers. We also specialize in wildlife pharmaceuticals, including sedatives and their antagonists, offering many unique options to serve a wide array of zoo animal and wildlife immobilization and anesthesia requirements.
Our pharmacists are also encouraged to develop strong working relationships with our veterinarians in order to better care for veterinary patients. Such relationships foster an ever-increasing knowledge base upon which pharmacists and veterinarians can draw, making both significantly more effective in their professional roles.
Disclaimer
The information contained in this blog post is general in nature and is intended for use as an informational aid. It does not cover all possible uses, actions, precautions, side effects, or interactions of the medications shown, nor is the information intended as medical advice or diagnosis for individual health problems or for making an evaluation as to the risks and benefits of using a particular medication. You should consult your veterinarian about diagnosis and treatment of any health problems. Information and statements have not been evaluated by the Food and Drug Administration ("FDA"), nor has the FDA approved the medications to diagnose, cure or prevent disease. Medications compounded by NexGen Pharmaceuticals are prepared at the direction of a veterinarian. NexGen Pharmaceuticals compounded veterinary preparations are not intended for use in food and food-producing animals.
NexGen Pharmaceuticals, LLC does not recommend, endorse or make any representation about the efficacy, appropriateness or suitability of any specific dosing, products, procedures, treatments, services, opinions, veterinary care providers or other information that may be contained in this blog post. NEXGEN PHARMACEUTICALS, LLC IS NOT RESPONSIBLE NOR LIABLE FOR ANY ADVICE, COURSE OF TREATMENT, DIAGNOSIS OR ANY OTHER INFORMATION, SERVICES OR PRODUCTS THAT YOU OBTAIN THROUGH THIS BLOG POST.