Bloat in Impala During Capture and Chemical Immobilization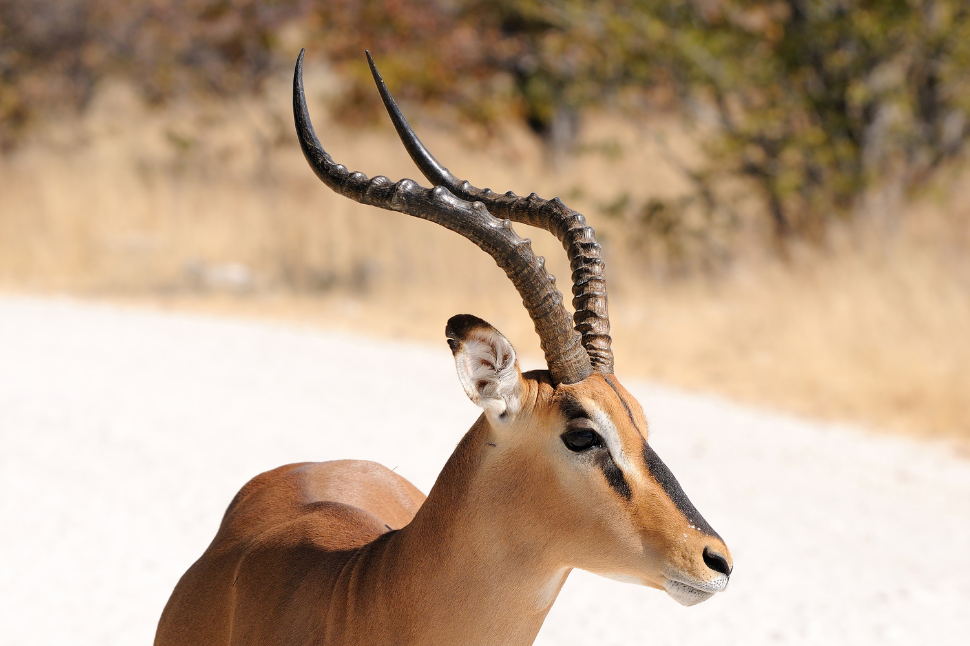 The impala (Aepyceros melampus) is a widely-distributed African ungulate that is comprised of several subspecies. The most common in East Africa is Aepyceros melampus rendilis; Aepyceros melampus petersi, the black-faced impala, is distributed further south. There are other proposed subspecies (up to 4 additional) that are less well known; controversy as to their designation is ongoing.1 Known for their spectacular leaps when alarmed or pursued by predators, impala are most often found in Kenya, Zimbabwe, Uganda, Zambia, Botswana, and Southern Angola to northern South Africa. They are the most dominant species of antelope on the African savannah.
Impala are fawn-colored with white undersides and a black stripe that extends from the top of the rump down the back of each thigh.2 Impala males have lyre-shaped horns which reach a length of around 30 inches. The impala stands 28–36 inches high and weighs between 90–167 pounds. Impala males are approximately 20% heavier than females.
Impala have the ability to adapt to different environments on the savannas. In some areas, they are grazers and browsers in others. Impala herds typically stay within a few miles of water sources.3 During the dry season when conditions are more harsh, impalas aggregate in mixed herds which can number from 100 – 200 individuals. During the wet season, males and females separate into different herds where males compete for dominance.
Impalas engage in a polygynous mating system wherein each male will mate with several females.3 From March through May, pregnant females live in isolation to give birth. Gestation lasts from 194 to 200 days, after which females give birth to a single calf. Shortly thereafter, the calf and its mother rejoin the herd.2
Bloat as a Complication of Chemical Immobilization
Bloat is a serious condition and a dangerous complication that is fatal if left untreated. In veterinary medicine, it is often seen in large dogs, where it is known as gastric dilatation-volvulus (GDV) which can occur spontaneously. Bloat occurs when an animal's stomach fills with food, gas, or fluid and subsequently twists.4 Bloat without twisting (GDV) can be life-threatening, but the risk is based upon the severity and duration. Bloat is a condition that has been reported in many species of antelope. It has been known to occur spontaneously, but is most closely associated with capture and chemical immobilization events.
When bloat occurs, it is the twisting and flipping of the stomach that creates a life-threatening condition. If the stomach becomes severely distended with gas, fluid or food, it puts pressure on the surrounding organs and decreases blood flow to and from these organs. The twisted stomach is more severe, because it completely obstructs blood supply to major organs and can impact blood flow throughout the whole body, which results in shock.4 As the stomach expands, it puts pressure on the large abdominal arteries and veins, cutting off the blood supply to the stomach. Toxic products subsequently build up and tissues begin to die. Impala (or any other animal experiencing bloat) can go into shock very quickly, and long periods without treatment increase the risk of tissue damage and death.4,5
Impala and Chemical Immobilization
Chemical immobilization is often required for the management and research of wild animals such as impala. Unfortunately, these animals are prone to a variety of capture‐induced risks while immobilized, including bloat.6 Each species of antelope has its own anesthesia recommendations with intra-species variations for dosages due to the wide range of individual responses to anesthetic agents across antelope species.5-7 These variations are factors in the risk of bloat and other complications. Attendant factors (e.g., stress, venue, individual animal and field conditions) must also be taken into account.
Since anesthesia and sedation represent a controlled intoxication of the central nervous system, every anesthetic event carries risk. Anesthetic drugs are never completely devoid of toxicity, thus, the induction of anesthesia invariably carries a risk even to the life of a healthy animal.7 Until the advent of potent opiates and novel drug formulations, some species of antelope were known to be very difficult to safely capture or anesthetize.6 Opioids can affect thermoregulation, the emetic center (potentially causing nausea and vomiting), and the respiratory system. They can also cause bradycardia as well as arterial hypertension (or hypotension in some cases). Ruminants are thought to be predisposed to gastrointestinal complications (such as bloat) associated with the administration of opioids.4
When performing procedures in chemically-immobilized impala, sternal recumbency positioning is vital whenever possible, as bloat is more likely to occur with animals in lateral recumbency. Other causes of bloat include the use of immobilization drugs such as the α-2-agonists, which can result in a ruminal atony and subsequently, bloat.4
A synergistic effect is achieved when α2-agonists and opioids are used together. These drugs inhibit the norepinephrine release by binding with the α-2-adrenoreceptors. They induce muscle relaxation, sedation and analgesia, and reduce the stress response. In higher doses, they can induce vomiting because of the activation of the chemoreceptor trigger zone, hypothermia, miosis and hypoxemia. Through the inhibition of antidiuretic hormones, an animal usually has an increase of urine production and a decrease of gastrointestinal motility which is thought to result in bloat and colic problems, mainly in herbivores.4
Xylazine was probably the first α-2-agonist to be used in veterinary medicine. Today, it is used in many species as well as being easily available and inexpensive. Xylazine promotes good muscle relaxation, sedation and a short period of analgesia. It can, however, cause hyper salivation, muscle tremors in some species and GIT motility suppression.4-6
Resolving Bloat in Impala
If an immobilized impala starts to bloat, the administration of all immobilizing drugs should be suspended. The animal should be re-positioned to ensure sternal recumbency with the neck extended and the head with the nose pointing down. Intubation to relieve gases inside may be done; in some cases, trocharization of the rumen may be recommended.4 If there is high confidence that the bloat is being caused by the anesthetic agents, he or she may employ the available reversal agents to antagonize their effect.4,7
Toward the end of the procedure(s) reversal agents such as diprenorphine, naltrexone or naloxone should be given as quickly as possible to avoid the side effects of the immobilizing agents (which can include respiratory depression and cardiovascular issues).
Since bloat can cause the heart rate to race at a rate sufficient to cause heart failure, IV catheters may be placed and fluid therapy begun. Medication for shock and electrolytes will be essential in stabilizing the animal. Premature ventricular contraction (PVC) is often associated with bloat; should this arise, intravenous medications will also be needed to stabilize the heart rhythm. If a disturbed heart rhythm is noted early on, the animal's prognosis for recovery is likely to be good.4
In the event of an impala's death during chemical immobilization, post-mortem gas formation in the alimentary tract should be distinguished from ante-mortem bloating, which itself can be a cause of death.5,7
4Wolfe, B. (2015). Bovidae (except sheep and goats) and antilocapridae. In Miller, R. E., Fowler, M. E. (eds) Zoo and Wild Animal Medicine. (Volume 8). St Louis, Missouri: Elsevier Saunders, 626-644.
5Lance, W. Exotic Hoof Stock Anesthesia and Analgesia: Best Practices. In: Proceedings, NAVC Conference 2008, pp. 1914-15.
6Ball, L. Antelope Anesthesia. Wiley Online Library, 25 July 2014,
7Arnemo, Jon & Kreeger, Terry. (2018). Handbook of Wildlife Chemical Immobilization 5th Ed. Sunquest Publishing, 2007, 432 pages.
About NexGen Pharmaceuticals
NexGen Pharmaceuticals is an industry-leading veterinary compounding pharmacy, offering sterile and non-sterile compounding services nationwide. Unlike other veterinary compounding pharmacies, NexGen focuses on drugs that are difficult to find or are no longer available due to manufacturer discontinuance or have yet to be offered commercially for veterinary applications, but which still serve a critical need for our customers. We also specialize in wildlife pharmaceuticals, including sedatives and their antagonists, offering many unique options to serve a wide array of zoo animal and wildlife immobilization and anesthesia requirements.
Our pharmacists are also encouraged to develop strong working relationships with our veterinarians in order to better care for veterinary patients. Such relationships foster an ever-increasing knowledge base upon which pharmacists and veterinarians can draw, making both significantly more effective in their professional roles.
Disclaimer
The information contained in this blog post is general in nature and is intended for use as an informational aid. It does not cover all possible uses, actions, precautions, side effects, or interactions of the medications shown, nor is the information intended as medical advice or diagnosis for individual health problems or for making an evaluation as to the risks and benefits of using a particular medication. You should consult your veterinarian about diagnosis and treatment of any health problems. Information and statements have not been evaluated by the Food and Drug Administration ("FDA"), nor has the FDA approved the medications to diagnose, cure or prevent disease. Medications compounded by NexGen Pharmaceuticals are prepared at the direction of a veterinarian. NexGen Pharmaceuticals compounded veterinary preparations are not intended for use in food and food-producing animals.
NexGen Pharmaceuticals, LLC does not recommend, endorse or make any representation about the efficacy, appropriateness or suitability of any specific dosing, products, procedures, treatments, services, opinions, veterinary care providers or other information that may be contained in this blog post. NEXGEN PHARMACEUTICALS, LLC IS NOT RESPONSIBLE NOR LIABLE FOR ANY ADVICE, COURSE OF TREATMENT, DIAGNOSIS OR ANY OTHER INFORMATION, SERVICES OR PRODUCTS THAT YOU OBTAIN THROUGH THIS BLOG POST.