Reasons for Preventing a Mare from Coming into Heat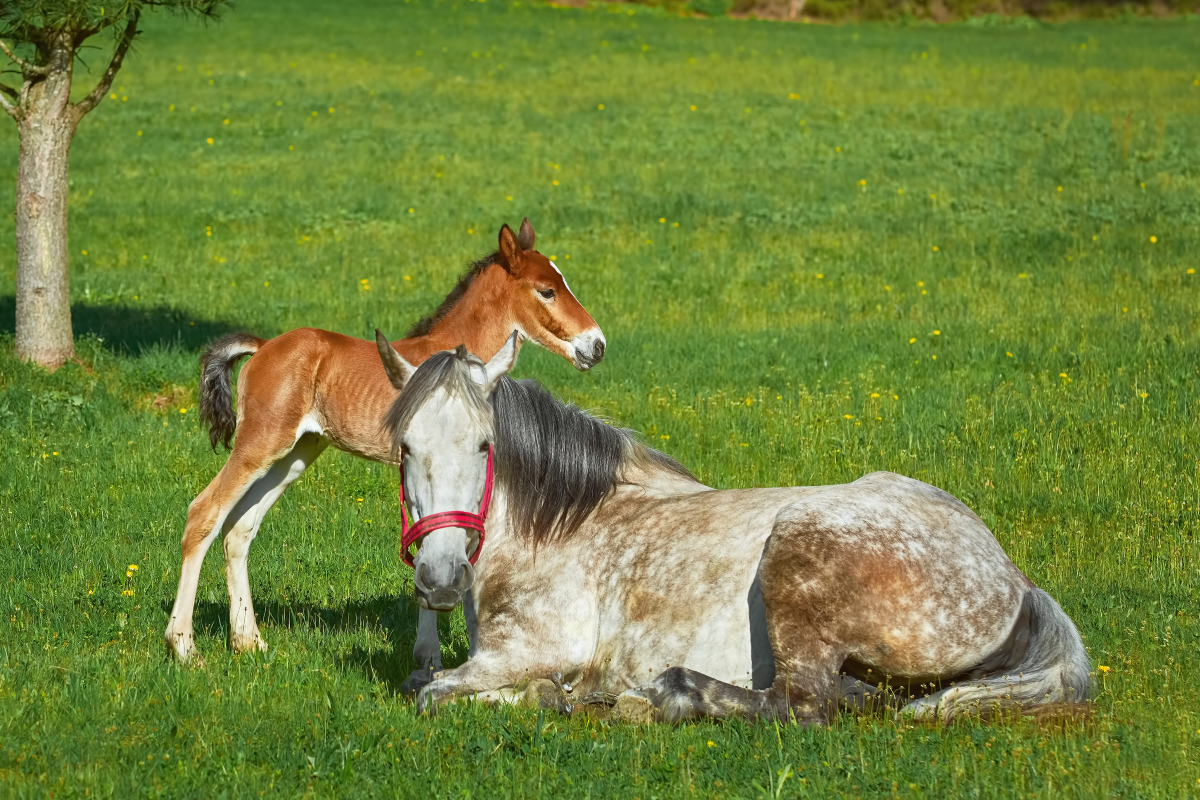 In the case of a performance mare—one which races, for example—the reasons for preventing such a horse from coming into heat may be self-evident. The sort of behaviors often exhibited by mares in estrus—stamping, vocalizing, nipping, tail-swishing, frequently urinating, dancing and rubbernecking—are unacceptable for obvious reasons considering the substantial expense of time and money involved in the racing game. This is to say nothing about the unpredictability and difficulty in simply riding a mare who's in full-blown heat.
Even in mares that are used for recreational riding privately or commercially, or for those that are used commercially in other areas, the aforementioned behaviors can be frustrating and potentially dangerous. Thus, the motivations for owners and managers to prevent a mare from coming into heat (estrus) are long-standing, and have given rise to many methods of dealing with this inevitability over many years.
Troubling Behaviors
Your mare may hardly change when she comes into heat, or she may behave so erratically that you wish you'd bought a gelding. Most fall somewhere between those extremes. You may notice that she's increasingly distracted. She may develop a passionate attachment to one of her barn buddies and whinny constantly if that horse is out of sight. She may squeal and kick out at the slightest provocation. She may also become sensitive in her back and sides and throw hissy fits when you apply leg pressure. Some mares are unusually spooky as estrus approaches. 1
Then, there is the matter of racing and showing fillies and mares. During the spring and summer months, their reproductive systems want to operate in normal rhythm with nature. This, however, can be counter-productive to success on the track and in the show ring. "Whenever I'm doing a pre-purchase examination of a performance mare, I always give the prospective owner my 'female speech'," says Dave Beckman, DVM, a practitioner from Anchorage, Ky.
"How she will react when in estrus is not something I can objectively evaluate during a pre-purchase exam, so I make certain they know that there are some mares that, when they come into heat, are a definite behavioral problem and they will not perform well, be it in a race, jumping, eventing or whatever. It is like a big rolling ball of hormones within their reproductive system and you don't know what to expect. 2
In the case of a racing mare (particularly one that has or is exhibiting potential), of course the prevailing desire of an owner or manager is to leave the mare intact for possible later engagement as a broodmare. For various reasons, this may also be the case for owners and managers of non-performance mares as well.
The normal estrous cycle in the mare is 21 to 22 days long, as defined by the intervals between ovulation. As noted above, estrus itself is the "heat" stage of the mare's cycle, in which she will be receptive to the stallion. Graphic courtesy of equine-reproduction.com.
Chemical Regulation
In shortening the estrous cycle, appropriate manipulation of the photoperiod is used according to the related breeding program, however chemical regulation is essential to achieve desired outcomes.
The current therapeutic approaches to reproductive endocrine suppression include gonadectomy and progestagen administration, where the former carries surgical risks and entails irreversible loss of breeding potential, and effective progestagen therapy requires frequent administration for extended periods and is banned in some competing animals as potentially anabolic. In this context, preventing the action of gonadotrophin releasing hormone (GnRH) by blocking its pituitary receptors is an attractive alternative for reversibly rendering mares anestrus or depressing testosterone secretion or spermatogenesis in stallions. 3
According to one study, "A single intramuscular or intravenous injection (2,500 IU) of human chorionic gonadotrophin (hCG) at the appropriate time during estrus has resulted in ovulation within 24 to 48 hours and a shortening of the estrous period compared with untreated controls. Disadvantages of hCG include some refractory responses from antibodies formed against this foreign protein." 4
There are several medications (hormones) that are commonly used for regulating mares. Among these are progesterone, estradiol and oxytocin. Compounds containing combinations of these medications are also available from veterinary compounding pharmacies.
Altrenogest is effective in normally cycling mares for minimizing the necessity for estrus detection, for the synchronization of estrus, and permitting scheduled breeding. It is also effective in suppressing estrus expression in show mares or mares to be raced. Altrenogest is also available in combination with progesterone.
Equine Breeding Products
You can find equine breeding products in our online store. Login to your account to view prices and purchase or create an account. Please note you must have a valid veterinarian license to create an account. If you do not, please forward our information to your veterinarian.
2Sellnow, L. Regulating Estrus in Mares. The Horse, Dec. 1998.
3Stout, T.A.E., Colenbrander, B. Suppressing reproductive activity in horses using GnRH vaccines, antagonists or agonists, Animal Reproduction Science, Volumes 82–83, July 2004, p. 633-643.
4Manipulation of Estrus in the Mare.veteriankey.com.
About NexGen Pharmaceuticals
NexGen Pharmaceuticals is an industry-leading veterinary compounding pharmacy, offering sterile and non-sterile compounding services nationwide. Unlike other veterinary compounding pharmacies, NexGen focuses on drugs that are difficult to find or are no longer available due to manufacturer discontinuance or have yet to be offered commercially for veterinary applications, but which still serve a critical need for our customers. We also specialize in wildlife pharmaceuticals, including sedatives and their antagonists, offering many unique options to serve a wide array of zoo animal and wildlife immobilization and anesthesia requirements.
Our pharmacists are also encouraged to develop strong working relationships with our veterinarians in order to better care for veterinary patients. Such relationships foster an ever-increasing knowledge base upon which pharmacists and veterinarians can draw, making both significantly more effective in their professional roles.