Pentosan Plus (Pentosan 250 mg/ml / Glucosamine 100 mg/ml) Dosages & Usages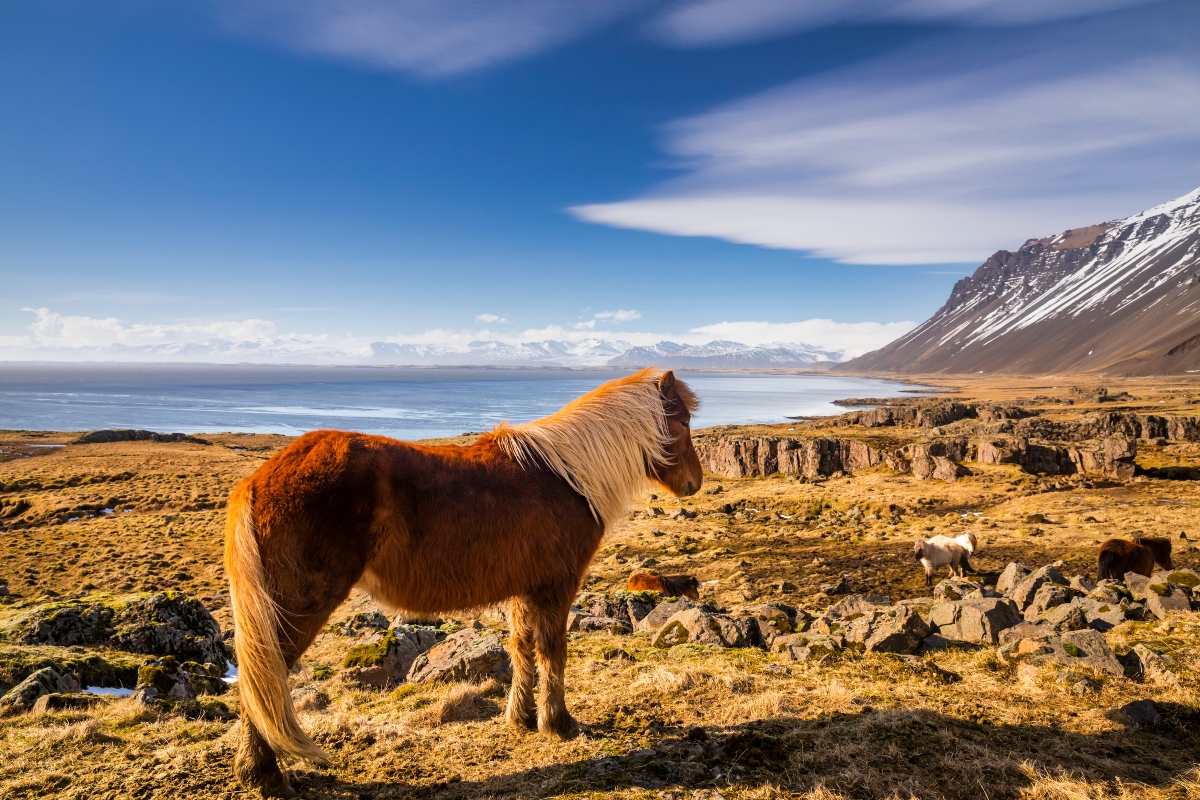 Unlike most of the domesticated animals with which humans interact (dogs, cats, birds and the like), horses are often called upon to perform very hard work. Due to the nature of the activities in which horses engage, and in which many people enjoy engaging with them, the body of a horse simply undergoes a lot more wear and tear than a pet dog or cat.
Consequently, joint issues are a common occurrence in horses. Additionally, when horses age, like humans, they become increasingly prone to degenerative diseases of the joints and connective tissues.
Joints have several components: collateral ligaments, which prevent lateral movements of the bones; synovial fluid, which fills the space between the bones and provides lubrication and nourishment to the cartilage; the joint capsule, which stabilizes the joint; the synovial membrane, which regulates the joint fluids; and the articular cartilage, the soft structural tissue that covers and cushions the ends of the bones where they meet.
The cartilage is a framework of tissue made up of collagen fibers, which give the structure its strength. The collagen is interlaced with proteoglycans—long, protein-based molecules with negative charges that trap water within the matrix. As the joint flexes, the cartilage compresses and expands, forcing water in and out of the spaces, which helps to provide a shock-absorbing effect.1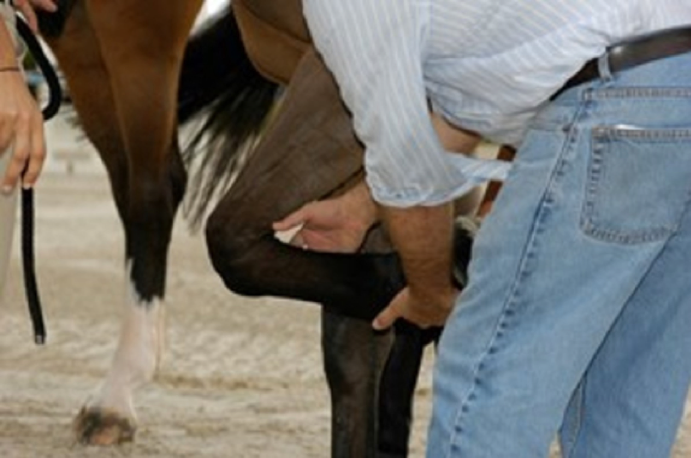 Arthritis and Degenerative Joint Disease in Horses
Arthritis is a degenerative joint disease (DJD) involving the breakdown and loss of the cushioning cartilage that lines the end of bones within a joint.2 The process also involves loss of lubricating joint fluid; overall, this results in a joint losing its ability to cushion impact, which leads to increasing degeneration of the joint in cascading fashion. Ultimately, the horse gives in to pain; the result is what we see as lameness in the horse. "Arthritis in specific locations in horses goes by common colloquial names such as ringbone and bone spavin."2
Symptoms of Arthritis in the Horse
In its early stages, arthritis may appear as a slight stiffness that the horse works out of once it is warmed up.2 Whether the symptoms appear suddenly after a trauma, or gradually with worsening stiffness and a visibly impaired gait, this means that chronic inflammation has led to degradation of the cartilage in the horse's joints.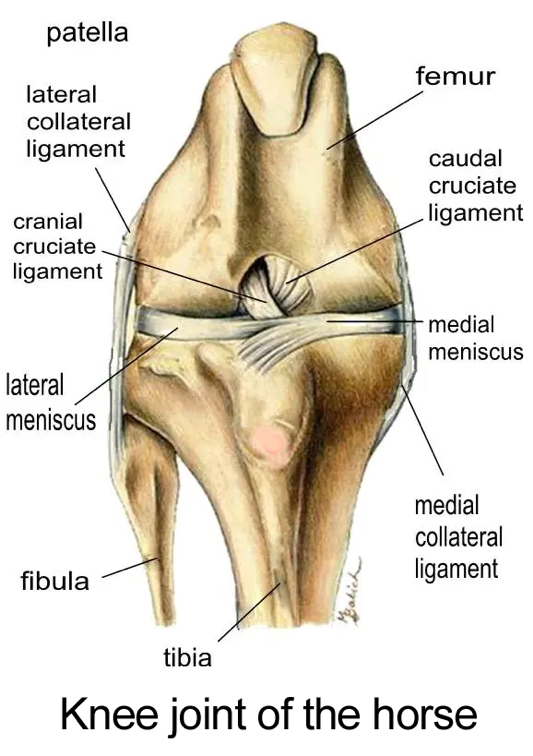 The available literature maintains that such damage is irreversible, and that the owner or manager's goal is to reduce the inflammation, pain and prevent further damage. "In the joint, the cartilage material is breaking down but not repairing itself efficiently. Eventually, as the cartilage becomes more damaged, the bone beneath the pad of cartilage becomes damaged as well... In more advanced cases, small bony growths called osteophytes may be seen under X-ray and may be felt around the affected joint. As the disease progresses, the horse may experience more discomfort and lameness."2
Preventative Measures
While there is no "magic bullet" method for preventing arthritis in horses, steps can be taken to reduce the risk of arthritis and other degenerative joint ailments, and to delay the onset of same by supporting and maintaining the horse's joint health. Additionally, "[C]urrent research is yielding new treatments and investigating management techniques that can help horses work longer and live more comfortably with arthritis."1
In foals and weanlings (age 4 to 24 months), it is recommended that owners and managers feed a balanced ration, turn the horse out as much as possible, and avoid forced exercise (of the horse, not the owner or manager). "A growing youngster's feed ration plays a crucial role in determining his vulnerability to developmental orthopedic disease (DOD), a collection of bone and joint abnormalities that arise when the conversion of cartilage is disturbed, usually by overly rapid growth. In the case of osteochondritis dissecans (OCD), the cartilage is too thick to be sufficiently penetrated by blood vessels, and the bone beneath develops weak and empty spots known as lesions."3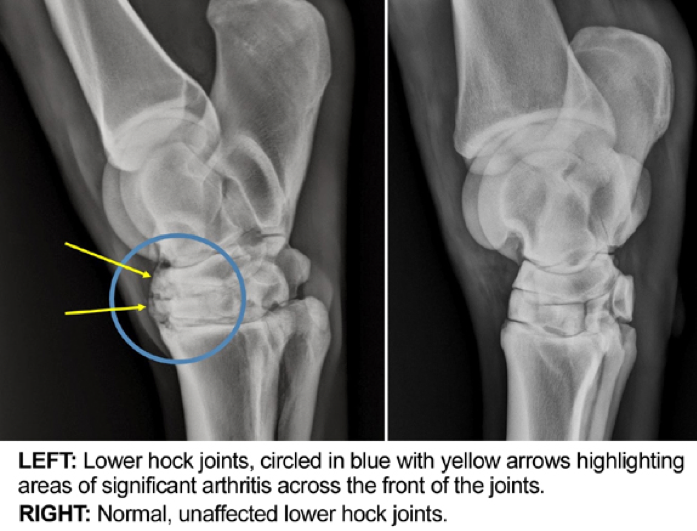 As more holistic paradigms of health care and maintenance have become popular among human beings, it stands to reason that horse owners and managers would look to more holistic methods of maintaining equine health. Consequently, an increasing amount of the literature suggests that one of the easiest ways to prevent arthritis and other DJDs in horses is to optimize joint health, rather than waiting until ailments set in. "This means that regardless of your horse's age, you can take steps now to protect the health of his joints. These measures aren't particularly difficult or expensive, but they do require vigilance, consistency and, oftentimes, restraint on your part."3
For young horses, it is widely recommended that any hard or repetitive work be set aside until the horse is physically mature, since the cartilage of the immature horse is still forming and is not yet able to withstand intense, repetitive work. In mature horses and horses in middle age, it's all about maintenance and preventative care.
In addition to a good health regimen and the avoidance of repetitive stress (as much as possible) and trauma, regular, consistent exercise is recommended to keep a horse at a healthy weight, as well as the preventive use of supplements that contain such ingredients as glucosamine and chondroitin. Finally, proper farriership is touted as being fundamentally important to a horse's long-term soundness. "Hooves that are long, out of balance or otherwise badly cared for can alter the movement of all the joints above it, potentially leading to arthritis."3

Treatment of Arthritis in the Horse
Treatment for cases of arthritis and DJDs will depend upon the causes and severity of the problem; for example, a condition that presents as arthritis might be another transitory or degenerative joint condition. As always, the veterinarian is the owner or manager's best resource for diagnosis and treatment.
Since joint problems in horses are so prevalent, there are numerous medications that are are effective at reducing inflammation and the associated swelling and pain. "[P]henylbutazone (bute) has long been a staple in most barns, but it is not the best choice for long-term use in all horses because it can damage the lining of the gastrointestinal tract."1
Pentosan is another medication that is widely used in the treatment of arthritis and other DJDs in horses. "Pentosan has disease-modifying effects on osteoarthritic joints similar to polysulfated glycosoaminoglycans... Pentosan has anti-inflammatory, hypolipidemic, anticoagulant and fibrinolytic properties. Pentosan also has a mild analgesic effect when used for interstitial cystitis."4 Thus, pentosan has long been used by veterinarians in the long term management of osteoarthritis in horses.
Glucosamine is also widely used to treat osteoarthritis in both humans and animals. There is an increasing body of scientific evidence supporting glucosamine's anti-inflammatory and chondroprotective properties. The combination of pentosan and glucosamine has been reported to be a superior approach to the long term management of osteoarthritis in horses. It is equally effective by both intramuscular (IM) and intra-articular(IA) routes, and promotes the healing and the restoration of healthy joints.
1Meszoly, J. Coping with Arthritis in Horses. Equus Magazine, Oct. 2009.
2thesprucepets.com.
3Barakat, C. How To Prevent Arthritis In Horses. Equus Magazine, Jan. 2019.
4Plumb's Veterinary Drugs.
About NexGen Pharmaceuticals
NexGen Pharmaceuticals is an industry-leading veterinary compounding pharmacy, offering sterile and non-sterile compounding services nationwide. Unlike other veterinary compounding pharmacies, NexGen focuses on drugs that are difficult to find or are no longer available due to manufacturer discontinuance or have yet to be offered commercially for veterinary applications, but which still serve a critical need for our customers. We also specialize in wildlife pharmaceuticals, including sedatives and their antagonists, offering many unique options to serve a wide array of zoo animal and wildlife immobilization and anesthesia requirements.
Our pharmacists are also encouraged to develop strong working relationships with our veterinarians in order to better care for veterinary patients. Such relationships foster an ever-increasing knowledge base upon which pharmacists and veterinarians can draw, making both significantly more effective in their professional roles.
Disclaimer
The information contained in this blog post is general in nature and is intended for use as an informational aid. It does not cover all possible uses, actions, precautions, side effects, or interactions of the medications shown, nor is the information intended as medical advice or diagnosis for individual health problems or for making an evaluation as to the risks and benefits of using a particular medication. You should consult your veterinarian about diagnosis and treatment of any health problems. Information and statements have not been evaluated by the Food and Drug Administration ("FDA"), nor has the FDA approved the medications to diagnose, cure or prevent disease. Medications compounded by NexGen Pharmaceuticals are prepared at the direction of a veterinarian. NexGen Pharmaceuticals compounded veterinary preparations are not intended for use in food and food-producing animals.
NexGen Pharmaceuticals, LLC does not recommend, endorse or make any representation about the efficacy, appropriateness or suitability of any specific dosing, products, procedures, treatments, services, opinions, veterinary care providers or other information that may be contained in this blog post. NEXGEN PHARMACEUTICALS, LLC IS NOT RESPONSIBLE NOR LIABLE FOR ANY ADVICE, COURSE OF TREATMENT, DIAGNOSIS OR ANY OTHER INFORMATION, SERVICES OR PRODUCTS THAT YOU OBTAIN THROUGH THIS BLOG POST.