Omeprazole 2.2 gm/Scoop / Misoprostol 1.40 mg/Scoop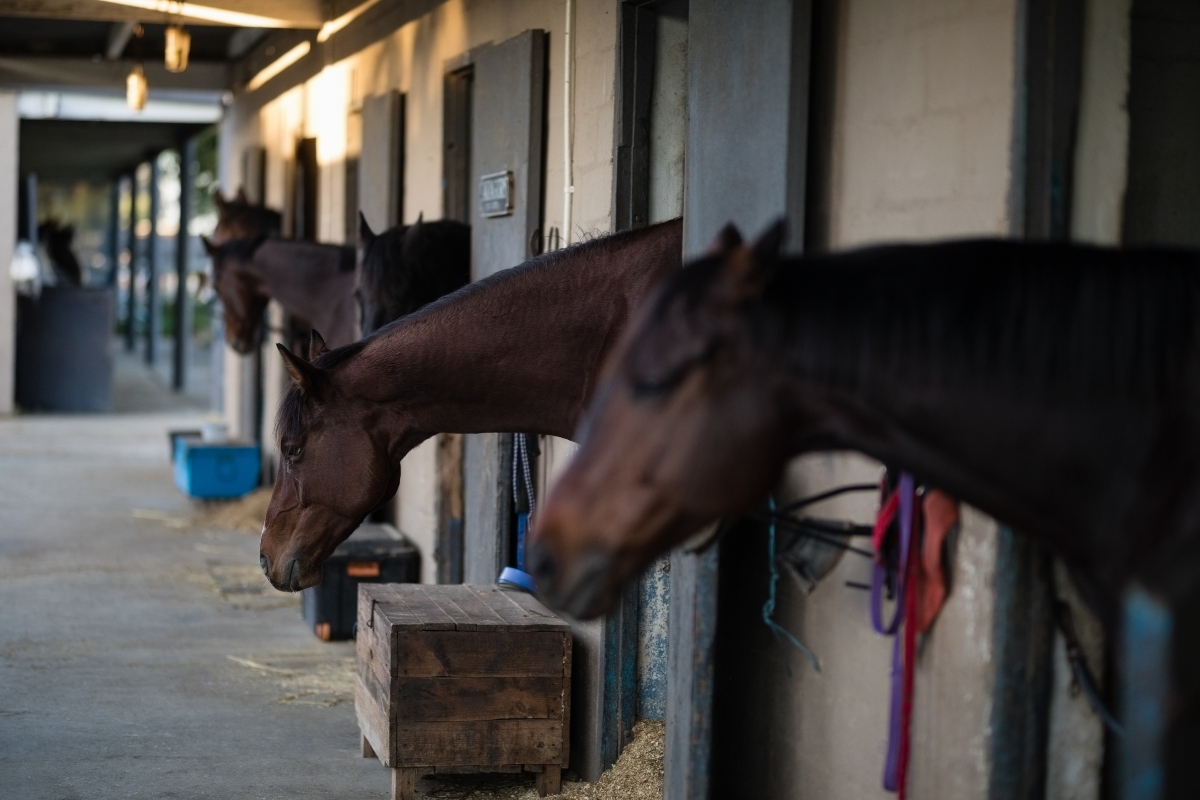 Gastric ulcers are common in horses and can affect any horse at any age. In fact, the prevalence of gastric ulcers in horses has been estimated at between 50% to 90%, depending on the populations surveyed and type of activity in which the horse is engaged.1
Why do horses have such a high incidence of gastric ulcers? Some of it is physiological, some environmental, and—as unlikely as it may sound—some of it has to do with lifestyle, or rather, the manner in which horses live as required by their owners and/or managers.
When looking at the stomachs of other species of relative size, the horse's stomach is comparatively small. Since horses were built to graze and eat frequent, small portions over extended periods of time,2 consuming larger meals on the schedule of owners and stable managers is simply not in keeping with the nature of equine physiology.
Etiology of Equine Gastric Issues
As far as the mechanics of how this causes horses so much trouble goes, "[U]lcers in the nonglandular squamous mucosa are associated with repeated direct insult from ultra-low pH fluid normally found in the glandular region of the stomach. Pressure increases inside the abdomen (associated with exercise), collapsing the stomach and forcing the acid gastric contents upward. The more fluid (and highly acidic) contents of the lower stomach come in contact with the nonglandular squamous mucosa, causing inflammation and, potentially, erosions to varying degrees."2
The available literature holds that foals are especially susceptible to gastric ulcers because they secrete gastric acid as early as two days of age, and the acidity of gastric fluid is extremely high. "Foals that have infrequent or interrupted feeding, or are recumbent for long periods have been found to have lower gastric fluid pH (aqueous solutions with a pH less than 7 are acidic), suggesting that milk has a protective effect against ulcers and that recumbency increases exposure of the stomach to acid."1
There is also abundant evidence suggesting that the more active a horse is, more susceptible he or she will tend to be to gastric ulcers and other digestive issues that are related to high acid content in the stomach. It is likely that this is because exercise increases gastric acid production and decreases blood flow to the gastrointestinal tract. "In adult horses, gastric ulcers occur more frequently in horses that perform athletic activities, with the highest frequency found in Thoroughbred racehorses (80-90%), followed by endurance horses (70%), and show horses (60%)."1
Clinical Signs of Equine Gastric Issues
Most horses with acid reflux-related issues and gastric ulcers typically do not show outward clinical signs, but will demonstrate more subtle symptoms, such as
Poor appetite
Dullness
Behavioral changes
Decreased performance
Reluctance to train
Poor body condition
Poor coat
Weight loss
Excessive time in recumbency
Low-grade colic
Loose feces1
According to the literature, if conditions are allowed to deteriorate, the horse will eventually show signs of abdominal pain (colic) and/or grinding of the teeth. Some horses are found in dorsal recumbency, since this position seems to provide some relief from the pain associated with severe gastric ulceration. Others will refuse food or eat sparingly, indicating that there is discomfort associated with eating.
Overall, it appears that many horses who look completely healthy can suffer with these issues. If a horse does exhibit clinical signs, the problem is already likely to be severe and should be diagnosed and treated immediately.
Treatment of Equine Gastric Issues
As in the case of many conditions (particularly those affecting equines), prevention is generally preferable to treatment. There are many available regimens that reportedly reduce the risk of horses developing gastric ulcers and related conditions, however, some will not necessarily be practical to all horse owners or across all horse operations.
Among these recommendations are:
Feeding horses frequently or on a free-choice basis (pasture). This helps to buffer the acid in the stomach and stimulate saliva production, nature's best antacid.
Reducing the amount of grain and concentrates and/or add alfalfa hay to the diet. Discuss any feed changes with your veterinarian so that medical conditions can be considered.
Avoid or decrease the use of anti-inflammatory drugs. If anti-inflammatory drugs must be given, consider some of the newer, gentler formulations.
Limit stressful situations such as intense training and frequent transporting.
If horses must be stalled, allow them to see and socialize with other horses as well as have access to forage.1
Since changing behavioral and environmental factors often fail to mitigate these conditions, veterinary nutritionists and pharmacies have long sought "magic bullet" medications that can address these conditions without over-medicating the horse or exacerbating the malady, which can occur through the administration of NSAIDS.
Additionally, veterinarians, horse owners and managers have long relied on nutritional supplements and prophylactic medication to prevent the onset of gastric ulcers and related conditions in horses.
Omeprazole
Recently, horses suffering from gastric ulcers have benefitted from the administration of omeprazole, a drug that decreases the production of stomach acid. Omeprazole is potentially useful in treating both gastroduodenal ulcer disease and preventing or treating gastric erosions caused by ulcerogenic drugs (eg, aspirin, NSAIDs).3
Omeprazole is a substituted benzimidazole gastric acid (proton) pump inhibitor. In an acidic environment, omeprazole is activated to a sulfenamide derivative that binds irreversibly at the secretory surface of parietal cells to the enzyme H+/K+ ATPase. There it inhibits the transport of hydrogen ions into the stomach. Omeprazole reduces acid secretion during both basal and stimulated conditions.3
Misoprostol
While most seasoned horse owners and managers are well aware that gastric ulcers are common in horses, many remain unaware that there are two distinct forms of gastric ulcers in horses: Equine squamous gastric disease (ESGD) and equine glandular gastric disease (EGGD).4 The diagnostic criteria for determining between the two has to do with the region of the stomach in which the ulcerations appear.
Researchers in the U.K. recently reported that these two diseases really shouldn't be considered the same and, therefore, mandate different treatments. In their study they found better success treating EGGD with misoprostol than with a combination of omeprazole and sucralfate, two drugs known to effectively treat ESGD.4
"While both types of disease fall under the umbrella term equine gastric ulcer syndrome, research shows that they are actually distinctive entities with different risk factors and, therefore, likely different ways of developing,"4 explained Gayle. D. Hallowell, VetMB, PhD, a professor in veterinary internal medicine and critical care at the University of Nottingham.
Omeprazole has become a preferred remedy for the treatment of stomach ulcers and esophageal problems in horses, while misoprostol provides protection when NSAIDs are in use. In combination, it has been found that omeprazole and misoprostol provide a superior and more complete solution for the prevention and treatment of gastroduodenal ulcer disease in horses.
1Nieto, J., DVM. Diagnosing and Treating Gastric Ulcers in Horses. The Horse Report, Center for Equine Health, School of Veterinary Medicine, University of California, Davis. Nov., 2012.
4Oke, S., DVM. Misoprostol: A Better Option for Treating Equine Glandular Gastric Disease. The Horse, Nov. 2019.
About NexGen Pharmaceuticals
NexGen Pharmaceuticals is an industry-leading equine compounding pharmacy, offering sterile and non-sterile compounding services nationwide. Unlike other veterinary compounding pharmacies, NexGen focuses on drugs that are difficult to find or are no longer available due to manufacturer discontinuance or have yet to be offered commercially for veterinary applications, but which still serve a critical need for our customers. We also specialize in wildlife pharmaceuticals, including sedatives and their antagonists, offering many unique options to serve a wide array of zoo animal and wildlife immobilization and anesthesia requirements.
Our pharmacists are also encouraged to develop strong working relationships with our veterinarians in order to better care for veterinary patients. Such relationships foster an ever-increasing knowledge base upon which pharmacists and veterinarians can draw, making both significantly more effective in their professional roles.
Disclaimer
The information contained in this blog post is general in nature and is intended for use as an informational aid. It does not cover all possible uses, actions, precautions, side effects, or interactions of the medications shown, nor is the information intended as medical advice or diagnosis for individual health problems or for making an evaluation as to the risks and benefits of using a particular medication. You should consult your veterinarian about diagnosis and treatment of any health problems. Information and statements have not been evaluated by the Food and Drug Administration ("FDA"), nor has the FDA approved the medications to diagnose, cure or prevent disease. Medications compounded by NexGen Pharmaceuticals are prepared at the direction of a veterinarian. NexGen Pharmaceuticals compounded veterinary preparations are not intended for use in food and food-producing animals.
NexGen Pharmaceuticals, LLC does not recommend, endorse or make any representation about the efficacy, appropriateness or suitability of any specific dosing, products, procedures, treatments, services, opinions, veterinary care providers or other information that may be contained in this blog post. NEXGEN PHARMACEUTICALS, LLC IS NOT RESPONSIBLE NOR LIABLE FOR ANY ADVICE, COURSE OF TREATMENT, DIAGNOSIS OR ANY OTHER INFORMATION, SERVICES OR PRODUCTS THAT YOU OBTAIN THROUGH THIS BLOG POST.