Horse Breeding Season Months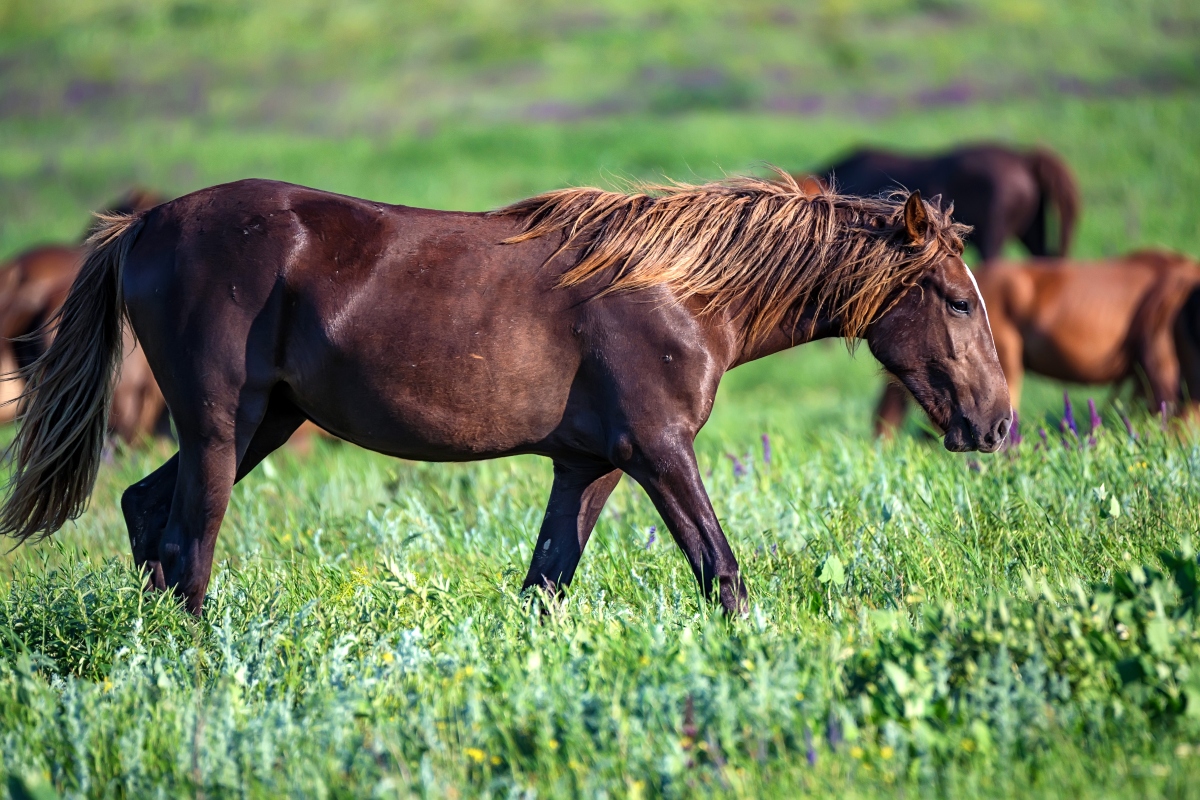 Many horse owners have entertained the notion of breeding their own prized mare. The idea of producing a foal with traits similar to its mother (or superior to its mother) can be very attractive. It is advisable that the novice horse breeder is already a seasoned horse owner, and familiar with the demands, expense and unexpected circumstances that can arise when caring for a large animal with a distinct personality and established behaviors.
Prior to any decision to breed a mare, an owner should amass as much knowledge as possible regarding normal breeding behavior, the foaling procedure and how a newborn foal should behave and develop as possible. The first-time breeder should have a working relationship with an equine veterinarian who is well-versed in aspects of horse breeding, and should consider seeking professional help with mating and foaling.
In general, commercial breeding operations (horse farms) will already have the appropriate protocols, procedures and personnel in place to effectively handle the breeding and foaling process.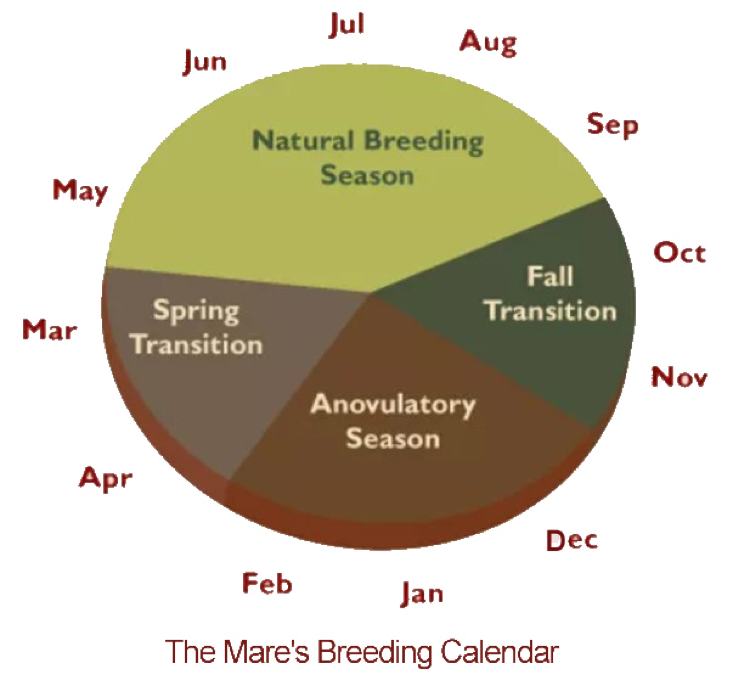 The Calendar and Breeding Months
After choosing the stallion to be bred with a mare, or if artificial insemination is to be used (this is less likely to occur in the case of the first-time, private breeder), it is necessary to determine when will be the best time for the foal to arrive. Since equine pregnancies run approximately 11 months (360 days), the estimated delivery date will establish the approximate breeding date.
Mares are seasonally polyestrous, which means that they have multiple estrus (or heat) cycles during some consecutive months, with none during others. "These two periods are separated by transitional phases, during which mares experience irregular estrous cycles, either longer or shorter than normal. In the northern hemisphere, mares show a lack of estrus from roughly November through to March. If they do show signs of heat, they will probably not ovulate, and if they are bred they will not conceive. This is nature's way of preventing the arrival of a foal in the middle of the winter, when temperatures are low and food scarce."1
Most breeders agree that the ideal time for a foal to be born is between May and July, when most grass is available to help the mare's milk supply. Since equine pregnancies run around 11 months, this generally means that an owner will want to get a mare in foal as early in the Spring as possible.
Too Young or Too Old?
A common question among nonprofessional horse breeders (horse owners) is that of whether their mare is too young or too old to breed. While horses don't typically have too many problems breeding, it is highly advisable for first time horse owners to do as much research as possible before putting their mares in foal. Breeding, and subsequently caring for a pregnant mare is only part of the work. Once the foal is born, the work and preparation continues, perhaps including special facilities and separate accommodation for the foal once it is weaned.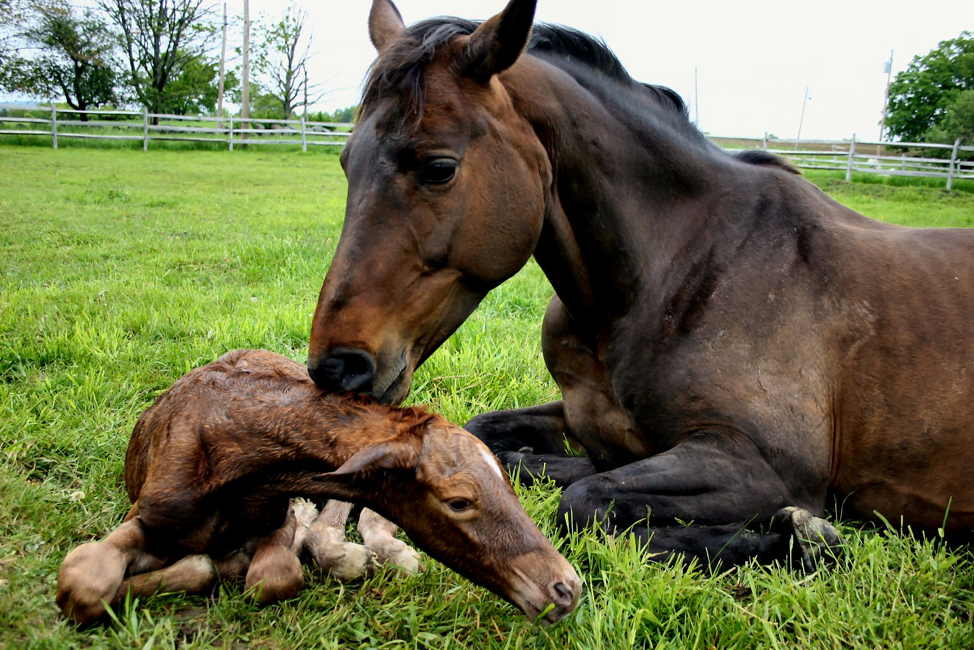 Fillies become sexually mature at around 18 months old, and can foal as two-year olds. However, they are still growing at this age, and pregnancy may hinder their growth. Mares often go on breeding until late in life and suffer no ill effects from it.2 It is more difficult to get older mares in foal for the first time; in general, it is advisable only to breed older mares who have been bred previously.
In the case of colts, many breeders advise against using home-bred colts as stallions, primarily due to the commercial availability of superior stallions and the fact that young coming-of-age colts can be notoriously difficult to handle.2
Time for Foaling
For early foals (born in January or February), the mare will have to be bred in February or March. In order to breed this early, the mare's natural cycling will have to be manipulated via the light cycle, so that her biology is "convinced" that Spring has arrived early. Most breeders advise beginning this process 60 to 80 days prior to the desired onset of regular cycling. Doing so will allow the mare to complete at least one, preferably, two regular cycles each consisting of five to seven days of standing heat, followed by 14-16 days out of heat, prior to breeding. The artificial lighting must be started in November in order to breed in February.1
In the case of Spring foals, late May to mid-July is probably the best option. In this scenario, the foal will be born in mild weather and grow substantially before winter sets in again. By the end of their third year, foals born at this time will have caught up developmentally with those foaled earlier. During this period, the mare and foal will also be at pasture at a time when there is good nutrient value in the grass. In the case of early and late foals, feed supplements will be necessary to a greater extent for both the mare and foal.1
In breeding late foals, the owner should know that breeding later than August gives rise to a host of other considerations.1 The mare may be in the transitional cycling phase by this time, which produces erratic heats. Weaning may be a more difficult procedure for a late foal, particularly if stall space is scarce; earlier in the year, the mare can be kept in the barn, and the foal kept at pasture with other foals.
1equine-reproduction.com.
2horses-and-horse-information.com.
About NexGen Pharmaceuticals
NexGen Pharmaceuticals is an industry-leading veterinary compounding pharmacy, offering sterile and non-sterile compounding services nationwide. Unlike other veterinary compounding pharmacies, NexGen focuses on drugs that are difficult to find or are no longer available due to manufacturer discontinuance or have yet to be offered commercially for veterinary applications, but which still serve a critical need for our customers. We also specialize in wildlife pharmaceuticals, including sedatives and their antagonists, offering many unique options to serve a wide array of zoo animal and wildlife immobilization and anesthesia requirements.
Our pharmacists are also encouraged to develop strong working relationships with our veterinarians in order to better care for veterinary patients. Such relationships foster an ever-increasing knowledge base upon which pharmacists and veterinarians can draw, making both significantly more effective in their professional roles.
Disclaimer
The information contained in this blog post is general in nature and is intended for use as an informational aid. It does not cover all possible uses, actions, precautions, side effects, or interactions of the medications shown, nor is the information intended as medical advice or diagnosis for individual health problems or for making an evaluation as to the risks and benefits of using a particular medication. You should consult your veterinarian about diagnosis and treatment of any health problems. Information and statements have not been evaluated by the Food and Drug Administration ("FDA"), nor has the FDA approved the medications to diagnose, cure or prevent disease. Medications compounded by NexGen Pharmaceuticals are prepared at the direction of a veterinarian. NexGen Pharmaceuticals compounded veterinary preparations are not intended for use in food and food-producing animals.
NexGen Pharmaceuticals, LLC does not recommend, endorse or make any representation about the efficacy, appropriateness or suitability of any specific dosing, products, procedures, treatments, services, opinions, veterinary care providers or other information that may be contained in this blog post. NEXGEN PHARMACEUTICALS, LLC IS NOT RESPONSIBLE NOR LIABLE FOR ANY ADVICE, COURSE OF TREATMENT, DIAGNOSIS OR ANY OTHER INFORMATION, SERVICES OR PRODUCTS THAT YOU OBTAIN THROUGH THIS BLOG POST.