Altrenogest 225 mg/ml Dosages & Usage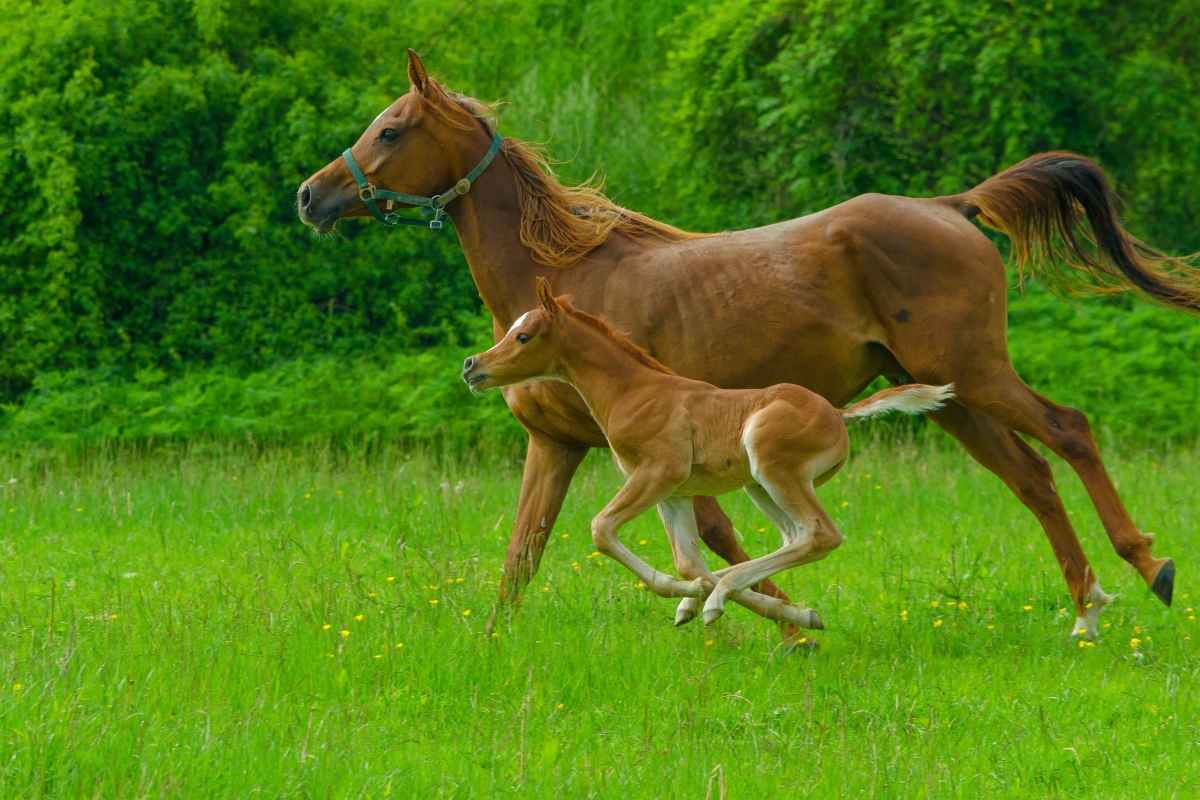 Altrenogest is a progestational drug used in horses to suppress estrus or maintain pregnancy when progestin deficient. It is also used in pigs to synchronize estrus, and may be used in dogs for luteal deficiency or to prevent premature delivery.
Altrenogest is indicated to suppress estrus in mares to allow a more predictable occurrence of estrus following withdrawal of the drug. It is used clinically to assist mares to establish normal cycles during the transitional period from anestrus to the normal breeding season often in conjunction with an artificial photoperiod. 1
The use of altrenogest in the suppression of estrus allows a regular cycle during the transition from winter anestrus to the physiological breeding season in mares with active ovaries. By managing the reproductive cycle, horse owners have more control over breeding procedures and the timing of the arrival of foals. In some cases, altrenogest is also used for pregnancy maintenance and for the reduction of aggressive behavior in stallions.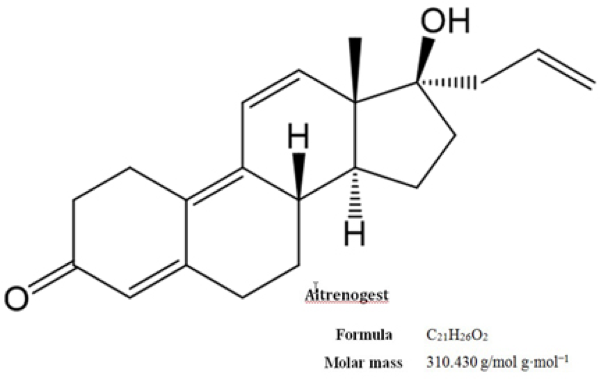 Altrenogest Indications and Usage
According to the available literature, altrenogest is more effective in assisting in pregnancy attainment later in the transition period. Some veterinarians suggest selecting mares with considerable follicular activity (mares with one or more follicles 20 mm or greater in size) for treatment during the transitional phase. Mares that have been in estrus for 10 days or more and have active ovaries are also considered excellent candidates for progestin treatment. 2
Altrenogest is effective in normally cycling mares for minimizing the necessity for estrus detection, for the synchronization of estrus, and permitting scheduled breeding. Estrus will ensue 2-5 days after treatment is completed and most mares ovulate between 8-15 days after withdrawal. Altrenogest is also effective in suppressing estrus expression in show mares or mares to be raced. Altrenogest has been demonstrated to maintain pregnancy in oophorectomized mares and may be of benefit in mares that abort due to subtherapeutic progestin levels.
In terms of response, clinical trials have demonstrated that estrus will be suppressed in approximately 95% of the mares within three days with the use of altrenogest; however, the post-treatment response depended on the level of ovarian activity when treatment was initiated. Estrus in mares exhibiting regular estrus cycles during the breeding season will be suppressed during treatment; these mares return to estrus four to five days following treatment and continue to cycle normally. Mares in winter anestrus with small follicles continued in anestrus and failed to exhibit normal estrus following withdrawal.
Response in mares in the transition phase between winter anestrus and the summer breeding season depended on the degree of follicular activity. Mares with inactive ovaries and small follicles failed to respond with normal cycles post-treatment, whereas a higher proportion of mares with ovarian follicles 20 mm or greater in diameter exhibited normal estrus cycles post-treatment. 3
Altrenogest Dosages

Altrenogest is available in a variety of concentrations, reflecting the range of species in which it is used. The most widespread use of this drug in veterinary medicine is in equines. Recommended dosages for horses are as follows:
Suppress estrus for synchronization (labeled dosage; FDA-approved): Administer 1 ml per 110 lb body weight (0.044 mg/kg) PO every 24 hours for 15 consecutive days.
Prevention of abortion/pregnancy loss (all are extra-label):
a) 0.088 mg/kg PO every 24 hours.3
b) To maintain pregnancy in mares with deficient progesterone levels: 0.044 mg/kg PO every 24 hours. Three options for treatment: 1) treatment until day 60 of pregnancy or greater and measurement of endogenous progesterone level of >4 ng/ml; 2) treatment until day 120 of pregnancy; or 3) treatment until end of pregnancy. 4
c) To maintain pregnancy in mares with placentitis: 22 – 44 mg (total dose; 10 – 20 ml) PO every 24 hours. 5
To suppress estrus (long-term) (extra-label): 0.044 mg/kg PO every 24 hours. 6
Warnings, Interactions and Contraindications
No recognized side effects are reported in horses when altrenogest is used according to label directions.
The following drug interaction with altrenogest has either been reported or is theoretical and may be of significance in veterinary patients. Unless otherwise noted, use together is not necessarily contraindicated, but weigh the potential risks and perform additional monitoring when appropriate.
Rifampin: May decrease progestin activity if administered concomitantly.
Griseofulvin: May alter the effects of altrenogest.1
Since it has been determined that altrenogest can disrupt the hormonal activity of other species (such as humans) via contact, it is recommended that protective gloves be worn when handling altrenogest and that a physician be contacted in the event of accidental contact. Altrenogest should not be handled by women of child-bearing age, and should not be administered to immature animals, animals with diabetes, uterine infection, a history of vaginal discharge or reproductive abnormalities, or animals where the owner or managers suspect they are pregnant. 1
In considering safe and effective dosage and administration for horses, altrenogest in the 225 mg/ml concentration is a manageable and highly effective concentration. It is effective in normally cycling mares for minimizing the necessity for estrus detection, for the synchronization of estrus, and permitting scheduled breeding.
1Plumb's Veterinary Drugs.
2equimed.com.
3Dascanio J. Hormonal Control of Reproduction. Proceedings: ABVP 2009. 2009. Veterinary Information Network.
4McCue P. Ovarian problems in the non-pregnant mare. Proceedings: Western Veterinary Conference 2003. 2003. Veterinary Information Network.
5Valla W. Medical management of mares with complicated pregnancies. Proceedings: ACVIM Forum 2003. 2003. Veterinary Information Network.
6Squires EL, et al. Clinical Applications of Progestins in Mares. Comp CE. 1983;5(1):S16-S22.
About NexGen Pharmaceuticals
NexGen Pharmaceuticals is an industry-leading veterinary compounding pharmacy, offering sterile and non-sterile compounding services nationwide. Unlike other veterinary compounding pharmacies, NexGen focuses on drugs that are difficult to find or are no longer available due to manufacturer discontinuance or have yet to be offered commercially for veterinary applications, but which still serve a critical need for our customers. We also specialize in wildlife pharmaceuticals, including sedatives and their antagonists, offering many unique options to serve a wide array of zoo animal and wildlife immobilization and anesthesia requirements.
Our pharmacists are also encouraged to develop strong working relationships with our veterinarians in order to better care for veterinary patients. Such relationships foster an ever-increasing knowledge base upon which pharmacists and veterinarians can draw, making both significantly more effective in their professional roles.
Disclaimer
The information contained in this blog post is general in nature and is intended for use as an informational aid. It does not cover all possible uses, actions, precautions, side effects, or interactions of the medications shown, nor is the information intended as medical advice or diagnosis for individual health problems or for making an evaluation as to the risks and benefits of using a particular medication. You should consult your veterinarian about diagnosis and treatment of any health problems. Information and statements have not been evaluated by the Food and Drug Administration ("FDA"), nor has the FDA approved the medications to diagnose, cure or prevent disease. Medications compounded by NexGen Pharmaceuticals are prepared at the direction of a veterinarian. NexGen Pharmaceuticals compounded veterinary preparations are not intended for use in food and food-producing animals.

NexGen Pharmaceuticals, LLC does not recommend, endorse or make any representation about the efficacy, appropriateness or suitability of any specific dosing, products, procedures, treatments, services, opinions, veterinary care providers or other information that may be contained in this blog post. NEXGEN PHARMACEUTICALS, LLC IS NOT RESPONSIBLE NOR LIABLE FOR ANY ADVICE, COURSE OF TREATMENT, DIAGNOSIS OR ANY OTHER INFORMATION, SERVICES OR PRODUCTS THAT YOU OBTAIN THROUGH THIS BLOG POST.